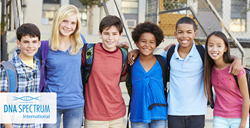 DNA Spectrum now offers one of the most comprehensive ancestry tests offered internationally.
New York, NY (PRWEB) June 26, 2014
Today, anyone around the world who is interested in ancestry or family history can access a new international DNA based ancestry test via DNA Spectrum's Full Spectrum Package for $149.
The ancestry test begins with a 16-marker genetic profile. DNA Spectrum utilizes a database containing the profiles of over 115,000 forensic study subjects in peer-reviewed, independent research from over 400 populations around the world to discover the unique identity and family history of individuals.
DNA Spectrum has simplified and streamlined the DNA collection process for customers to create a simple DNA Collection Kit that is sent to the United States for genetic ancestry testing. Customers are notified when the testing protocol and analysis is complete and are able to access and print results online securely and globally.
This test is ideal for individuals and families who have wondered about roots or migratory populations from South America, Europe, Africa, North America, the Middle East or Asia. A population contained within the ancestry test, Spain, provides a sample of of the information available to individuals that are linked to the Iberian peninsula.
Europe provides an excellent example of the power contained within a DNA based ancestry test. There are 50 countries that are recognized as sovereign within Europe that have provided gateways, access points, and final destinations for population migration throughout time.
The national profile of Italy provides a distinct illustration of the diversity and knowledge contained within the combination of DNA and history. Like all of Europe, each country has been able to maintain its own history and unique identity even though the entire continent of Europe is less than the size of the countries of Australia or the USA.
Scotland provides details for many European families that have seen generations of family members emigrate to North America. Ancestry testing utilizing DNA can not only help to understand native populations but also to identify and reveal stories created through global migration. In addition to populations in Spain, Italy, and Scotland, DNA Spectrum now offers one of the largest independent European Population Databases of any Ancestry DNA testing company.
The future of DNA and genetics is forever evolving and DNA Spectrum is proud to be able launch new products and to offer exciting DNA testing and analysis globally.
About DNA SPECTRUM
Every person's DNA stores an incredible amount of valuable information. This knowledge is only as relevant as the tools available to understand and unravel the mysteries hidden within the genetic sequence. The vision of DNA Spectrum is to uncover the information contained within a genome and present the findings in a format that is easy-to-understand, meaningful, and life changing.
DNA Spectrum meets the discerning demands of genetic testing clients today with DNA ancestry and private storage services and support. Later this year, DNA Spectrum will release the first DNA lifestyle genetic products, enabling individuals to make positive life changes in fitness, diet, and exercise. With DNA Spectrum as a partner, customers and researchers will be at the forefront of genetic breakthroughs for generations to come and will be able to access all genetic needs through one online marketplace.
Media Contact
Paul Yates
1.800.471.6164