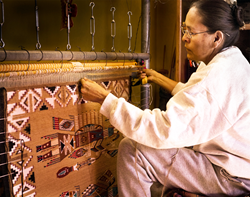 These women are not only great artists, but mathematical geniuses.
(PRWEB) June 20, 2014
"By the sheep the women hold the land." ~ a Navajo saying.
For centuries, Navajo (Dinė) society, culture and economy have centered around sheep raising and making rugs from their wool. The U.S. Government knew this when, in the early 20th century, they set out to decimate the entire herd of Churro sheep that was the basis of Navajo life. Depending upon who is speaking, the government's intention was to protect the land from overgrazing, or it was supporting a cynical land grab by ranchers and speculators. In any case, the result was disastrous for the Navajo.
Famed photographer Sally Wiener Grotta explains this in her recently posted American Hands video about Navajo rug making. "By the 1990s, fewer than 700 Churro sheep were left. Since then, a concerted effort to restore the breed and the Dinė way of life they anchor has increased the sheep's numbers. But the Churro is still considered a rare and highly desirable breed with only about 5,000 registered sheep."
The American Hands video and the story of Navajo rug making go far beyond a mere history lesson of livestock, land and politics. It is the tale of women and men who have kept ancient skills and an exquisite art form alive. This in turn helps to preserve and even strengthen their great traditions and inimitable spirits.
Sally Wiener Grotta spent some time on the Navajo Reservation, getting to know and photographing traditional rug weavers for her American Hands project.
"Watching weavers like Louise Tso, Marilyn Patiyamo and Ruby White at their looms," Grotta said, "I became more and more impressed with the brilliance of their work. These women are not only great artists, but mathematical geniuses, keeping the intricate geometric patterns in their heads as they manipulate the multitude of threads."
As the Navajo Nation struggles to balance tradition with the pressures of the modern world, Grotta believes that supporting the rug makers will be an important source of both respect and improved financial standing.
To learn more about this, view the video. To arrange an interview with or appearance by Sally Wiener Grotta, please email Lori [at] Grotta [dot] net.
ABOUT AMERICAN HANDS
American Hands is Sally Wiener Grotta's ongoing narrative visual celebration of those individuals – blacksmiths, weavers, spinners, glassblowers, bookbinders, rug makers, etc – who are keeping alive the traditional trades that built our country's diverse culture. Sally's natural down-to-earth style helps artisans warm to her camera, developing personal relationships that allow her to share in intensely private and often poignant creative moments, as well as spontaneous expressions of joy and discovery. Her narrative series of portraits capture both the fascinating creative processes and the individual personalities of the craftspersons. This project has hit a resonant chord with the public and the art world, and continues to generate quite a "buzz."
As Sally continues to travel around the country, photographing and capturing the stories of traditional artisans, new American Hands exhibits, lectures and workshops continue to be scheduled. (To date, over 350,000 individuals have personally attended American Hands exhibits.) She plans to return to the US Southwest and to the Navajo Nation, to create additional portraits and gather more stories to share through American Hands.
American Hands has received more than three dozen grants plus numerous other honors. Sponsors include Hewlett Packard, Pentax/Ricoh, Kingston Technology, Smugmug and other corporations and private donors.
American Hands has been adopted under the fiscal sponsorship of the Artspire program of the New York Foundation for the Arts (NYFA), one of the most respected arts organization in the country. Through this relationship, all donations to American Hands are tax-deductible. Please consider supporting American Hands through a donation.
ABOUT SALLY WIENER GROTTA
"Every once in a while great artists are able to transcend.... Sally's vision is grand... [and] ... reflected in the warmth she portrays in the people she photographs and the world she captures." ~ Steven Rosenbaum, President of SIR Communications and former Editor of Modern Photography.
Recognized as "one of the world's top photographers," such is Sally's renown that she is generally referred to by her first name. Her work has appeared in scores of exhibits. as well as many glossy magazines and books. The author of hundreds of articles and numerous books on photography and imaging, Sally gives lectures and workshops on photography, photo editing, digital art, and similar subjects around the continent. She is also a popular guest for radio and TV interviews on the subject of photography and imaging. Beyond the technology of photography, Sally focuses on the stories behind her pictures and the wondrous process of creating them. Sally is also the author of the novel "Jo Joe" and the soon-to-be-published "The Winter Boy".