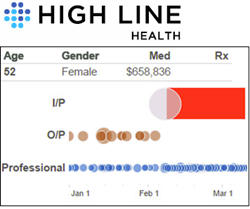 High Line Health works with clients to maximize program gains by identifying actionable items, targeting opportunities to reduce cost, and minimizing gaps in care. - John Farrell, CEO of High Line Health
Hartford, Connecticut (PRWEB) June 18, 2014
Integrated Care Partners, Hartford HealthCare's integrated physician organization, has deployed High Line Health's Visual Analytic Platform (VAP) to assist in managing and improving the health of ICP's patient population and to support its value-based agreements with commercial insurance and government payers. Value-based agreements reward physicians and organizations for meeting quality standards while lowering costs by helping patients with chronic illnesses better manage their diseases and by reducing duplication in testing by better care coordination.
ICP is employing a number of tools, including the High Line VAP, an electronic health record system and a connected imaging platform, to provide patients with high-quality care and improve the overall health and well-being of communities.
High Line Health's Visual Analytic Platform (VAP) empowers care givers and facilitates decision making by providing concise, actionable patient information in a dynamic, easy-to-use point-and-click environment. While the government and most commercial payers are transitioning to a value-based payment system from a fee-for-service payment method, individual program details can vary widely. High Line Health provides a proprietary web-based solution that is custom designed to reflect the specific value-based arrangements of each client. High Line's analytic solution allows users to seamlessly track and monitor performance on an enterprise or contract-specific basis. High Line Health's analytic solutions are developed by a team of multidisciplinary experts and designed to engage the full spectrum of users, including clinical leaders, program administrators and health care analysts.
The High Line system, for example, organizes health-plan claims data in such a way that enables ICP providers to see overarching patterns of care and identify high-risk patients – those with chronic health problems who are most likely to need a higher level or an increased amount of care if they don't manage their illnesses. The analytics enable care givers to move from being passive recipients of patient visits to becoming more proactive – to reach out to patients to remind them of lab tests and follow-up care. High Line also can illustrate which patients may become higher users of health care in the future. It gives predictive risk scores, which offer ICP providers the opportunity to deliver preventive care.
"High Line Health works with clients to maximize program gains by identifying actionable items, targeting opportunities to reduce cost, and minimizing gaps in care. We play an important role in fostering the early success of collaborative care initiatives between health systems and health insurers. We are also continuously engaged in the transfer of knowledge from our professional staff to help clients create the valuable internal analytic staff that will be a vital component of long-term program success," said John J Farrell, CEO of High Line Health.
The result is a coordinated system in which everyone is engaged to provide higher-value health care.
"Improving population health is the main focus of ICP," said Dr. James Cardon, CEO of ICP and Chief Clinical Integration Officer for Hartford HealthCare. "It means we as providers must be more proactive. High Line data analytics will help ICP pre-empt bigger problems by looking at the smaller ones. Data analytics from a population of patients identifies what the population needs and what their most-common health problems are. That information helps us tailor our care and resources to meet those needs."
About High Line Health
High Line Health provides advanced analytic platforms to integrated health systems, accountable care organizations, health insurance companies and large employer groups. Our design engineers, in collaboration with clinicians, data architects and value payment experts, have leveraged recent advances in visualization technology to create a product base that is intuitive, powerful and very user friendly. We eliminate barriers, including long learning curves and training regimens that traditionally prevented all but the most ardent users from accessing essential analytic resources.
About Integrated Care Partners (ICP)
Integrated Care Partners (ICP) is a physician-led organization dedicated to delivering personalized, comprehensive and coordinated care to patients. As a community of physicians, ICP defines performance objectives, quality standards, and evidence-based medicine protocols; forges partnerships with health plans, employers and providers, and establishes requirements for participation. ICP's mission is to be a high performing network of integrated providers, successfully delivering value-based population health.
About Hartford HealthCare
With more than 18,000 employees and $2.4 billion in net revenue, Harford HealthCare offers the full continuum of care with five-acute care hospitals; the state's only air-ambulance service; one of the nation's top medical training centers; behavioral health and rehabilitation services; a large physician group and clinical integration organization; research facilities; visiting-nurse services; a laboratory system that spans the state; and a number of services for seniors, including senior-living facilities. A hallmark of the system's vision is to strengthen the access to care close to home for patients by enhancing local health care delivery, bringing the latest technology and discoveries, clinical excellence and innovation to the patient and the community.
Contact:
High Line Health
John J Farrell (203) 640-4691
John.farrell(at)highlinehealth(dot)com
Or
Hartford HealthCare
Rebecca Stewart, (860) 972-4285
Rebecca.Stewart(at)hhchealth(dot)org