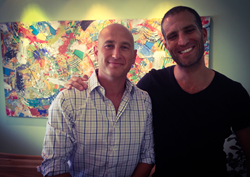 "What we are doing in the Dogtown Space is allowing locals to express themselves creatively and inspire the bond of localism and community through the sharing of dreams."
Santa Monica, CA (PRWEB) June 18, 2014
Dogtown Space is the inspiration of local Santa Monica businessmen Assaf Raz of Dogtown Realty and Drew Golden of Golden Capital Partners. The two long-time friends came together to take over the space for their respective businesses in the building where the famous surf shop, Horizon West, used to be. When an opportunity presented itself to develop vacant land behind the space, Raz and Golden envisioned building something for the community.
"Our initial vision for the space was to build a community garden in the back with hosted social gatherings for Santa Monica and Venice locals," says Golden. "When the idea for the land did not work out, we focused on the office space and realized that our 'garden' existed already within the walls of our unique and historically rich office space."
Assaf Raz, who is one of the co-owners of Dogtown Coffee and Dogtown Realty, is dedicated to the mission of preserving the history of what was created by the dreams and imagination of a group of unstoppable young locals with unique identities who became the Dogtown generation back in the 70's. Raz adds, "What we are doing in the Dogtown Space is allowing locals to express themselves creatively and inspire the bond of localism and community through the sharing of dreams."
Dogtown Space launched its first artist showcase presenting the works of Michael Torquato deNicola, an ex-professional surfer and award winning artist and filmmaker whose show "ROOTS" explored the intersection where man meets nature, in the surf. This was followed by local photographic artist, Jose Angel Castro, who presented for the very first time "1000 Words;" unique multi-media photographic works bringing together text and portraiture into powerful and compelling artistry.
Dogtown Space plans to hold regular showcases with three to four new events to be announced featuring works with established names, as well as new and emerging artists.
For information about upcoming events, and local artists interested in showcasing their works, connect with Raz or Golden via Dogtown Realty Facebook.