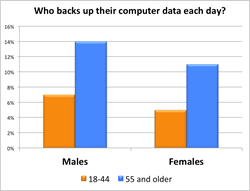 San Mateo, California (PRWEB) June 17, 2014
Backblaze, a leading online backup provider, today announced the results from its 7th annual "Backup Awareness" survey conducted online by Harris Interactive among 2,037 U.S. adults ages 18 and older in June. Overall the findings show that only 9% of users back up all the data on their computer daily. This is slightly lower than the 10% figure recorded in 2012 and 2013. This leaves a surprising 91% of computer users risking the loss of their photos, videos, documents, spreadsheets, and more – their digital lives – each day.
The survey reported that older men (55 and up) were more than twice as likely to back up their computer data daily versus younger men (18-44) – 14% versus 6% respectively. Older women (55 and up) were nearly as diligent in backing up their computers daily (11%) versus younger females (18-44) who languished at a lowly 5% daily backup rate. All of the survey respondents identified themselves as computer owners and users, mitigating the current generational shift towards phone and tablet-based computing. Additional survey results including observations related to how income and education affect computer data backup rates can be found on the Backblaze web site.
Frequency of Data Backup
In each of the last seven years, Backblaze has commissioned Harris Interactive to conduct its annual Backup Awareness survey. Below is a summary of results when computer users were asked: "How often do you backup all of the data on your computer?"
2014 2013 2012 2011 2010 2009 2008
Daily or more 9% 10% 10% 6% 8% 6% 6%
Weekly or more 18% 19% 20% 14% 16% 14% 12%
Monthly or more 33% 36% 36% 27% 30% 27% 26%
"Backblaze has helped recover over 6 billion files for our customers," said Gleb Budman, CEO and co-founder of Backblaze. "These statistics on data backup show that 91% of computer users are still at risk of losing their photos, videos, music, and other critical files. Let's work together to help get everyone protected."
About Backblaze
Founded by a team of serial entrepreneurs with security, scalability and usability backgrounds, Backblaze's mission is to ensure that all computer data is backed up. Backblaze was chosen as the Best Online Backup Service of 2012 by OnlineBackupReviews.org, picked as a 2013 SIIA CODiE Awards winner, selected as a RedHerring 2013 North America Finalist, and chosen as one of the AlwaysOn Global Top 250 private companies. Backblaze automatically, continuously, and safely backs up all data on a PC or Mac for just $5 per month, $50 per year, or $95 for two years. Visit http://www.backblaze.com for more information, or to sign-up for a free trial.
Survey Methodology
The surveys were conducted online within the United States by Harris Interactive on behalf of Backblaze as follows: June 2-4, 2014 among 2,037 U.S. adults, June 13–17, 2013 among 2,021 U.S. adults, May 31–June 4, 2012 among 2,209 U.S. adults, June 28–30, 2011 among 2,257 U.S. adults, June 3–7, 2010 among 2,071 U.S. adults, May 13–14, 2009 among 2,185 U.S. adults, and May 27–29, 2008 among 2,761 U.S. adults. In all surveys, respondents consisted of U.S. adult computer users (aged 18+), weighted to the U.S. adult population of computer users. No estimates of theoretical sampling error can be calculated; a full methodology is available by contacting Backblaze at press(at)Backblaze(dot)com.