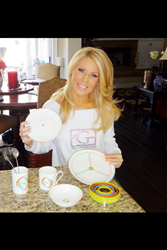 Women are spending huge amounts of money on fad diets that are not sustainable, exchange one programme for another when they don't see the desired results
Rock Hill, South Carolina (PRWEB) June 18, 2014
In a survey published by the team behind a weight loss book launching this month, it's revealed that dieters will try as many between 10-20 diets in their lifetime, with branded diet plans, fad foods and supplements cited as the biggest expenditure during that time. The SlimPlate system, with a one-off outlay for first-time users, is a cheap and effective way to lose weight and maintain a healthy lifestyle, with a plan that advocates control rather than deprivation.
A spokesperson for SlimPlate System, says, "Women are spending huge amounts of money on fad diets that are not sustainable, exchange one program for another when they don't see the desired results. With program fees, gym membership and many costly supplements to pay for in order to meet the requirements of these strict diets, it is little wonder the estimated spend on weight loss is just under $6,000 per year for the average woman."
The SlimPlate System does not involve deprivation, cutting food groups, juicing, fasting or any of the other fashionable diet trends that have emerged in recent years. Instead, the kit helps users to lose weight while eating the foods they love, by controlling portion sizes with a number of specially-designed plates, cups and utensils. The SlimPlate plans are created by weight loss doctors and approved by physicians as a healthy and sustainable way to lose weight and keep it off without exorbitant membership fees or costly supplements.
The entire cost of SlimPlate System is $99, with no public meeting costs, drinks, shakes or special foods to buy. All foods are cooked as normal, with snacks, hot drinks, desserts and treats all included in the plan, meaning those using the system can still indulge in the foods they enjoy. There is no continuous cost for weight loss – the one-off cost of purchasing the portion control plates covers everything users need to get to their goal weight.
The full collection of SlimPlate dinnerware includes four plates for each stage of the plan, two cups, two bowls, a specialised breakfast plate and a selection of cutters to ensure that sandwiches, pancakes, muffins and other hard-to-measure items do not exceed the portion limits for each day. Users are encouraged to eat five times a day to nourish their bodies rather than starving themselves of nutrients, and no food is off-limits, leading to a weight loss plan that is easy to implement and maintain.
To find out more about SlimPlate, visit the website: http://www.slimplatesystem.com/
About SlimPlate System:
SlimPlate is a four-stage weight loss program that shuns deprivation for portion control. The system, which has been designed by physicians and proven by research, is easy to implement and maintain, with no calorie counting, costly supplements or juice fads.