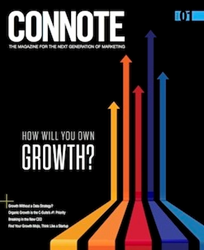 Dallas, TX (PRWEB) June 17, 2014
Connote Magazine, the thought-leadership publication for marketing executives published by D Custom in cooperation with Dallas-based marketing and editorial partners Levenson and Freeman+Leonard, was honored with an Award of Excellence in the 2014 APEX Awards.
The APEX Awards, sponsored by Communications Concepts, Inc. and judged by an esteemed panel of communications specialists, received almost 2,100 entries in 2014. Awards were presented based on excellence in graphic design, editorial content and the success of the entry in achieving overall communications effectiveness and excellence.
"Launching a new print and digital magazine is not easy, but we had a vision, and the Connote team pulled it off with grace, style and a passion for marketing," says Gordon Locke, president of D Custom and editor-in-chief of Connote. "This award is a testament to our goal of producing a high-quality marketing magazine that fills a gap in content for CMOs and other marketing leaders."
Connote received the Award of Excellence in the category of new magazines, journals and tabloids. It was first published in July 2013 by Locke and executive editors Kathy Leonard, president of Freeman+Leonard, and Rob McEnany, managing partner of Levenson. It is published twice per year and is directly mailed and emailed to over 8,000 marketing executives and practitioners in North America, with 80% of the print audience being marketing decision makers.
For more information about the APEX Awards or to view the list of winners, please visit http://www.apexawards.com. To read the current issue of Connote, or for marketing executives to subscribe in print or online, please visit http://www.connotemagazine.com.
Connote is the magazine for the next generation of marketing, with a focus on forward-thinking marketing, evolving marketing practices, and elevating marketing leadership. Connote's mission is to illuminate actionable commentary for marketing leaders, with true editorial integrity.