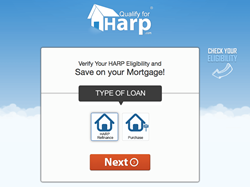 HARP has helped millions of American modify mortgages and Madrivo is helping consumers find HARP.
Las Vegas, NV (PRWEB) July 10, 2014
Madrivo has revolutionized the process of delivering global products and services to targeted demographics online. The company's most recent breakthrough with the Home Affordable Refinance Program (HARP) demonstrates the ability to effectively source and connect the consumer demand for mortgage modification with a supply of potential lenders.
HARP assists homeowners who want to refinance their homes but were denied due to devalued real estate. Since its inception in March 2009, the program has been used over 3.1 million times and continues to relieve struggling Americans despite the recovering housing market. Madrivo can proudly say the core expertise in the analysis and acquisition of online media, techtelligence, has helped consumers to efficiently find potential lending sources.
In 2014 alone, Madrivo effectively reached around 700,000 online consumers wanting mortgage modifications. These numbers are expected to grow; an estimated 750,000 homeowners are eligible for the program though they have yet to apply.
Madrivo's efforts to calibrate the online advertising of HARP supports the company's altruistic philosophy. The agency views the HARP program and others like it as an opportunity to benefit millions of people in an efficient and meaningful way. Compliance to industry regulations and exclusive, qualified media buying teams have only compounded the advances of HARP.
Kyle Terry, President of Madrivo, speaks about what makes the company so effective, stating, "Madrivo uses a proprietary techtelligence platform combined with many, many years of experience to evaluate actual real-time, real-life statistics to show a clear and precise path leading to the target audience." Similar to the way HARP was refined to reach more homeowners, Madrivo predicts the needs of consumers and uses targeted media to reach consumers with quality products and services.
With almost one million potential applicants and enrollment numbers that increase by the week, HARP will remain a source of mortgage relief for consumers and Madrivo will ensure that HARP reaches qualified candidates. In addition, Madrivo is expanding the portfolio of quality, high-demand products and services to match consumers with the products and services they seek. By reducing the transaction costs of matching online consumers and companies, Madrivo is creating win-win solutions for customers and providers, thereby generating more value for consumers and companies alike.
About Madrivo
In the constantly evolving and incredibly fast-paced digital era, Madrivo is an integrated online marketing agency that develops efficient marketing solutions, unifies customer acquisition strategies, and develops tactics to successfully move traditional operations to the Internet. The team at Madrivo guides companies, large and small, globally, to establish the most cost effective online presence and to execute lead generation, affiliate marketing, and branding strategies.
For more information about this progressive company, visit Madrivo or write to:
Sarah Dysthe
press(at)madrivo(dot)com
3889 S Eastern Avenue
Las Vegas, NV 89169