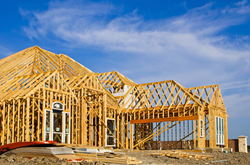 Expected sales conditions over the next 6 months rose 3 points to a score of 59.
Chicago, IL (PRWEB) June 16, 2014
CF Funding is glad to see that builder confidence is rising again, as today, June 16th, the NAHB/Wells Fargo Housing Market Index rose 4 points this month to a score of 49. A score of 50 or higher means more builders than not feel confident about the state of the housing industry. Limited availability of labor and other factors contributed to scores in the lower 40's over the past few months, but Kevin Kelly says "a four-point uptick in builder sentiment is a welcome sign and shows some renewed confidence in the industry."
As CF Funding has mentioned previously on the lender's blog, the HMI results measure factors such as current sales, sales expected over the next 6 months, and traffic of prospective buyers. Builders' responses from the survey are used to calculate a score from 1 to 100. The survey has now been conducted for 30 years.
All three indexes showed positive results in June, with current sales conditions increasing by 6 points to a score of 54. Expected sales conditions over the next 6 months rose 3 points to a score of 59. Buyer traffic increased 3 points to a score of 36. Although CF Funding is disappointed to see the buyer traffic score and overall score under 50 points, the lender is looking forward to further gains in builder confidence and expects all three indexes to rise in the coming months.
Regional HMI scores are also calculated, with the Midwest showing similar results as the overall survey, an increase of 4 points to reach 49 this month. The Northeast currently holds the lowest regional score of 33, and the West holds the highest regional score at 53. On a 3-month average, the South and Northeast rose 1 point to 49 and 34. The west was unchanged at a score of 47. The Midwest fell 1 point to a score of 46. NAHB Chief Economist David Crowe explained in a press release that "Consumers are still hesitant, and are waiting for clear signals of full-fledged economic recovery before making a home purchase… builders are reacting accordingly, and are moving cautiously in adding inventory." Unfortunately for buyers, lower inventory usually means higher home prices due to less competition from other sellers.
Luckily, interest rates remain at historic lows, with slight decreases seen today in both 30-year and 15-year fixed-rate mortgages, as well as JUMBO and ARMs. CF Funding will keep readers updated on interest rate changes and the state of the housing industry on the lender's Twitter page at http://www.twitter.com/CF_Funding.