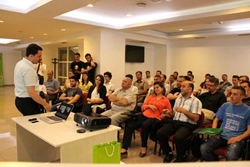 Because of the incredible system and support EDUonGo provides, it took us less than three months to take WEKonline from concept to reality.
(PRWEB) June 18, 2014
EDUonGo, Inc. has partnered with WEKonline, an online school that teaches software development in Kosovo. After officially launching their two-year computer programming school in March 2014, WEKonline's U.S.-based instructors now have the necessary virtual space and tools to teach in-demand technology skills to Kosovar students.
"Because of the incredible system and support EDUonGo provides, it took us less than three months to take WEKonline from concept to reality," says Agim Hajrizi, head of marketing at WEKonline.
EDUonGo is making it easy for customers like WEKonline to get their academies up and running with little investment. Because of the platform's straightforward, easy-to-use technology, Hajrizi has had more time to focus on the school's marketing efforts to secure local news coverage. In just a few months WEKonline has attracted hundreds of students ranging from high school to working age professionals.
"There were couple online courses I needed to pass before I could enroll in the two-year program" says Artan Ahmeti, a WEKonline student. "The courses were very engaging and the live web meeting with the instructor was especially helpful."
By using EDUonGo's interactive features, WEKonline has been able to generate pre-recorded lectures, live sessions, quizzes and assignments. The simple cloud-based system is a secure network where students collaborate together by sharing their notes and posting comments in the video player and e-reader. Students are able to earn certificate credits and valuable work experience by completing their final projects and internships. At the end of the program, they are awarded with an official certificate issued by EDUonGo.
"A great product and supreme customer support is what separates us from our competition," says Steven Yee, chief operating officer at EDUonGo. "We treat every customer as our partner, their success is our success. Our goal is to help anyone, a teacher, a consultant, or an entrepreneur to launch their own academy, and share their knowledge with the rest of the world."
About EDUonGo
EDUonGo enables anyone to share knowledge through an online learning environment. Schools, institutions and individuals partner with EDUonGo to host online academies through its cloud-based platform. With more than 1,000 registered institutions and close to 20,000 users worldwide, EDUonGo is the fastest and most powerful way for anyone to launch an online academy. For more information, visit http://www.EDUonGo.com.
About WEKOnline
WEKonline is an online school dedicated to providing quality training in software development at an affordable cost. The school promotes knowledge implementation in real working situations and student collaboration through real-time projects and online lectures.