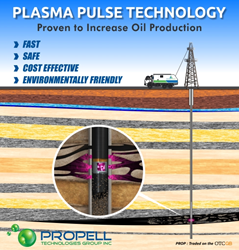 With the pending arrival of our next generation tool and the resulting market expansion it is expected to provide, we should be able to treat most wells in North America
Houston, Texas (PRWEB) June 17, 2014
Propell Technologies (OTCQB:PROP), the exclusive US licensee of a plasma pulse well treatment for enhanced oil recovery (EOR) today announced it will exhibit its well stimulation treatment at the Global Hunter Securities 100 Energy Conference on June 24th-25th in Chicago, Il.
100 selectively chosen energy companies will be presenting at the event with top industry investment professionals in attendance.
"With the pending arrival of our next generation tool and the resulting market expansion it is expected to provide, we should be able to treat most wells in North America, so we believe that this is a well- timed opportunity to generate new business and advance existing strategic discussions," remarked CEO John Huemoeller. "We're pleased to be invited to exhibit."
Upon delivery of its new wireline tools, the Company expects to be able to treat the estimated 1 million US vertical and directional wells as opposed to only those with 5.5" casings, estimated to be about half of those in the US.
Additionally, the tool should now be compatible with single wireline configurations, which comprise the bulk of the US wireline truck fleet, with capability to allow immediate deployment of the tool due to the vastly greater availability of compatible wireline trucks.
ABOUT PROPELL TECHNOLOGIES GROUP
Propell Technologies Group, Inc. (http://www.propell.com/), through its wholly owned subsidiary Novas Energy USA, is the exclusive U.S licensee of the Plasma Pulse enhanced oil recovery (EOR) well treatment that is designed to improve production cost effectively and without acidization, hydrofracking or other chemicals. It develops and commercializes treatment and stimulation of oil wells intended to meaningfully improve production and enhance the recovery of oil and gas in existing wells. For further information please visit http://www.propell.com.
SAFE HARBOR
This press release includes forward-looking statements of our current expectations and projections about future events. In some cases forward-looking statements can be identified by terminology such as "may," "should," "potential," "continue," "expects," "anticipates," "intends," "plans," "believes," and similar expressions. These statements are based upon current beliefs, expectations and assumptions and are subject to a number of risks and uncertainties, many of which are difficult to predict and include statements regarding the results derived from use of our technology such as market expansion, our ability to treat additional wells as well as compatibility with single wireline configurations. The forward-looking statements are subject to risks and uncertainties that could cause actual results to differ materially from those set forth or implied by any forward-looking statements. Important factors that could cause actual results to differ materially from those reflected in our forward-looking statements include, among others, the ability of our supplier to deliver the redesigned tool when anticipated, the desirability of the redesigned tool and its ability to perform as anticipated ad well as the factors described in our on Form 10-K for the year ended December 31, 2013, and any other filings we may make with the SEC. The information in this press release is provided only as of the date written, and we undertake no obligation to update any forward-looking statements contained in this press release on account of new information, future events, or otherwise, except as required by law.
Contact:
Patrick Gaynes
patrick.gaynes(at)propell(dot)com
(713) 766-5546