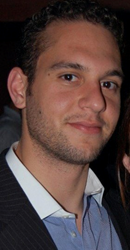 Up to this point, this level of seamless synchronization of content across multiple devices has only been depicted in futuristic Hollywood films.
San Francisco, California (PRWEB) June 17, 2014
The team that developed MyPad, the top social app with nearly 100 million downloads and named by Apple as one of the Top 20 Apps of All-Time, is at it again. They've just launched DoubleVision, a new company that's introducing a ground-breaking technology through the DoubleVision SDK that has the ability to orchestrate and automatically open content and other applications on enabled devices, and works with both Android and Apple mobile platforms (available at GetDoubleVision.com).
Among the most requested features of the app is the ability for iPhones and iPads to communicate with each other, even to automatically open apps and links on other devices. The DoubleVision app can even link with your computer, automatically showing websites, videos, photos and other related content from the computer on your mobile device with screen sharing. For example, a web visitor that searches for driving directions on their desktop will no longer have to print the directions or e-mail themselves in order to access directions on-the-go. Through DoubleVision, the website automatically opens directions in the Maps app on the mobile device. "As smart as our current devices are, they're inept when it comes to communicating with each other or transferring information," says DoubleVision founder, Cole Ratias. "Apple's iOS8 brings a number of advances but we're excited to go even further by bringing the future of second screen technology to any screen, including iOS and Android mobile devices, desktop computers, or even a display you pass by in the mall. Up to this point, this level of seamless synchronization of content across multiple devices has only been depicted in futuristic Hollywood films."
In a recent interview with Robert Scoble, Rackspace's Startup Liaison Officer, Ratias show how the uses for this technology go beyond simple content sharing, and mobile app developers are already beginning to experience the benefits. According to data from DoubleVision, which looked at behavior from over two hundred thousand web users, web developers who used the DoubleVision technology converted up to 20% of their desktop audience to download their mobile apps, compared to merely 2% conversion for developers without access to DoubleVision. Developers did so by adding DoubleVision's "Send to Phone" button to enable users to send content from the website to their mobile device, simplifying mobile downloads from the computer and greatly increasing app download conversion. Developers can also leverage DoubleVision's SDK to increase engagement by sending realtime notifications to mobile devices, using the second screen to automatically display anything such as relevant product specifications, videos, or even discounts (synchronously or asynchronously). With DoubleVision, the second screen can quickly be optimized for e-commerce, streamlining transactions and facilitating users to complete purchases after leaving the computer.
Of course, these findings have serious implications for brands and marketers. "This technology is exciting because it's a completely new way for users to engage with your brand very thoughtfully across all of their devices automatically – from their television set, to their mobile phone, to their tablet, to their desktop, and beyond," says Tina Davis, owner of Kindred Marketing Company. "There is significant value in that, almost inevitably increasing the engagement with your company, and, with careful planning, increasing your conversion rates and adding to your bottom line."
Visit GetDoubleVision.com for more information.
Cole Ratias, Founder @ DoubleVision
Delivery(at)GetDoubleVision(dot)com