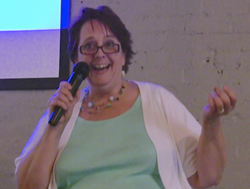 Des Moines, Iowa (PRWEB) June 17, 2014
Mygooi, the Des Moines-based the mobile technology brand that brings people together using innovative digital products, said it is planning its second GooiKaraoke competition for June 24 at Exile Brewery and Restaurant, 1514 Walnut Street in Des Moines.
Starting at 6 p.m. and ending at 8 p.m., the evening will include free appetizers and beer – the craft-brewery's Betty Honey Lager, which will be free when drawn from a special Mygooi puller.
Networking expert Danny Beyer, the evening's emcee, explained that GooiKaraoke is designed to move participants out of their comfort zones, encouraging people to interact. "This is a fresh form of 'disruptive' networking," he said.
Beyer, who hosted the first GooiKaraoke competition, held in Omaha, Nebraska, on May 7, is the founder of Bow Tie Wednesday (https://www.facebook.com/BowTieWednesday) and the person to beat in the speed bow tying contest being sponsored by Mygooi (https://www.facebook.com/mygooi).
In GooiKaraoke, he explained, "Singers pick their favorite song, but instead of singing its original lyrics, they make up their own extolling their business. It's like writing a networking elevator speech but with more sizzle and style. It's a blast – totally gooi.
"People can just show up and network, meeting cool people and having a great time."
The winner of the competition will receive a promotional video for his or her business, created by television producer/director/actor Ed Ellington and valued at $10,000. The second place finisher gets a MacBook and third an iPad Air.
The first competition was won by Michelle Kaiser, owner of Alotta Brownies Bakery, in Fremont, Nebraska. She captured the audience's vote by singing "Who bakes your brownies" to the tune of Who Let the Dogs Out."
Said Susan Corpuz of Corpuz Family Dentistry in Omaha, and a Mygooi ambassador, "I love Mygooi's fresh, disruptive take on business networking that emphasizes relationships and warm leads."
About Mygooi
Mygooi™ is an energetic brand platform that is digital, creative, disruptive and global. Its portfolio of emerging products sizzle with IC/DC (Innovation and Creativity/Disruption and Community). Mygooi's utility and purpose are to bring people together with innovative digital products. Based in Des Moines, Iowa, and Chennai, India, Mygooi has as its mission to Go Where The Life Is.™
See Mygooi updates and watch GooiNation grow on Facebook at https://www.facebook.com/mygooi.
Visit our new website and download the app upon release at http://www.mygooi.com.
Mygooi supports the Cystic Fibrosis Foundation. Check them out at http://www.cff.org.
Media Contacts:
Kyle Eason, Media Relations, US
Mygooi
641-840-9518 / Kylee(at)mygooi(dot)com
Jon Buscall, CMO
Mygooi
+46768637285 / jonb(at)mygooi(dot)com
Mark Perlman
Mygooi
312-315-0707 / Markp(at)mygooi(dot)com
Richard Greb
Mygooi
847-651-1445 / Richardg(at)mygooi(dot)com