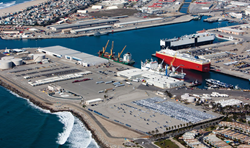 Port of Hueneme - California (PRWEB) June 17, 2014
In an effort to increase port and maritime security, and to ensure the readiness of emergency response agencies and personnel in the region, The Port of Hueneme, along with more than 90 local, state, and federal emergency response agencies, will be conducting the annual Coastal Trident Regional Maritime Security and Response Exercise near and around The Port of Hueneme, and along the Southern California Coast.
Port security exercises will be conducted from June 16th to June 19th involving multiple agencies, including military and local emergency response resources, in a variety of air, land, and sea operations as well as a number of technologies related to maritime operations.
In addition to the full scale exercise activities, The Port in collaboration with the Naval Postgraduate School's Center for Asymmetric Warfare (CAW), the County of Ventura and the Economic Development Collaborative - Ventura County (EDC-VC), will be hosting an all-day Maritime Advanced Systems and Technologies (MAST) Exposition with a series of exhibits and panel presentations. A ribbon cutting will be held on June 18 at 9:00 am to announce the implementation of port security technologies funded with over $12 million in state and federal grants.
This exercise is an annual event which is being conducted strictly for training purposes. It is not in response to any known threat to The Port of Hueneme or the region.
MEDIA EVENTS:
When:
June 18, 2014
Where:
Port of Hueneme Headquarters,
333 Ponoma Street
Port Exercise Briefing:
8:30am - 9:00am
Ribbon Cutting Event:
9:00am - 9:30am