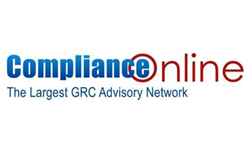 San Francisco, CA (PRWEB) June 18, 2014
ComplianceOnline, the leading governance, risk and compliance advisory network with over 500 experts in various regulatory subjects, today announced a seminar on FDA's New Import Program Concerning International Consequences. The two day seminar led by former FDA official Casper Uldriks will be held on July 17 and 18 in San Francisco, CA.
During the course, Mr. Uldriks will discuss FDA's and the US Customs Border Patrol's regulatory criteria, inter-agency agreements and intra-agency procedures and ways to improve import and export business.
For more information or to register for the seminar, please click here.
Seminar instructor Casper Uldriks is an ex-FDA official having more than 32 years of experience with the FDA. Mr. Uldriks is specialized in the FDA's medical device program as a field investigator, senior manager in the Office of Compliance and as an Associate Center Director in the Center for Devices and Radiological Health. He developed enforcement actions, participated in the implementation of new statutory requirements, managed device regulatory programs and was recognized as the agency's expert in a number of statutory provisions and regulations.
During this two day interactive seminar, Mr. Uldriks will focus on the FDA import program and process and will discuss internal procedures the FDA follows for imported products. He will discuss how U.S. Customs and FDA laws intersect and how to manage foreign suppliers that make the products. Attendees will learn how and with whom to negotiate at the FDA and how one can mitigate the cost and risk of detention. This seminar will provide attendees practical ways to improve their import and export business.
The seminar will be beneficial for business planning executives, regulatory managers, venture capitalists, business acquisition executives, owners of new or developing import/export firms, international trade managers, import brokers, investors, logistics managers and sales managers.
Date: Thursday, July 17 (8.30 AM- 4.30PM) and Friday, July 18, 2013, (8.30AM- 4.30PM)
Location: San Francisco, CA
Registration Cost: $1,699.00 per registration
Early bird discounts: For discounts on early registrations, please click here.
Register by phone: Please call our customer service specialists at +1-650-620-3937 or email to customercare(at)complianceonline(dot)com
For more information on ComplianceOnline or to browse through our trainings, please visit our website.
About ComplianceOnline
ComplianceOnline is a leading provider of regulatory compliance trainings for companies and professionals in regulated industries. ComplianceOnline has successfully trained over 35,000 professionals from 9,000 companies to comply with the requirements of regulatory agencies. ComplianceOnline is headquartered in Palo Alto, California and can be reached at http://www.complianceonline.com. ComplianceOnline is a MetricStream portal. MetricStream (http://www.metricstream.com/) is a market leader in Enterprise-wide Governance, Risk, Compliance (GRC) and Quality Management Solutions for global corporations.
For more information please contact:
A Reuben Bernard
Manager of Program Marketing
ComplianceOnline
2600 E Bayshore Rd
Palo Alto CA USA 94303
650-620-3937 phone
650-963-2530 fax
reuben(at)complianceonline(dot)com
http://www.complianceonline.com.