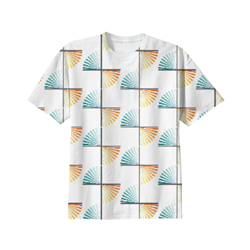 We are happy that we can offer our clients this new printing technique. Most of our competitors do not offer it, which again means that we are "all over" our market - and your t-shirts!
London, Barcelona, Berlin (PRWEB UK) 19 June 2014
Garment Printing is excited to offer its valued clients the latest trend in t-shirt printing: all-over dye sublimation. The technique, showcased by Vivienne Westwood in her 2014 Spring/Summer collection, enables people's creativity to run wild without being restricted to certain printing areas on a garment.
The dye sublimation process involves applying a heat-resistant transfer paper with the design onto the garment, which is then transferred via heat press into the fabric. The ink turns into gas under the influence of the heat and then solidifies again within the fabric, giving the print incredibly brilliant colours.
While direct-to-garment printing allows the straightforward high quality reproduction of photographic images in a maximum size of approx. 35 cm x 45 cm, the dye sublimation method can produce photo-realistic prints in continuous tones without restrictions of print sizes. The fabric is permanently dyed, which means that the print will not peel or fade.
Dye sublimation requires a garment that consists of 70%-100% polyester to allow for the solidification of the ink within the fabric, and Garment printing is happy to supply the products needed for this technique.
Gavin Drake, director of Garment Printing, is excited to add another printing technique to the company's portfolio: "We are happy that we can offer our clients this new printing technique. Most of our competitors do not offer it, which again means that we are 'all over' our market - and your t-shirts!"
This printing technique is not suitable for printing amateurs, as any wrinkle or crease will leave a white mark on the finished textile. Therefore, industry experience and well-trained staff are essential for this method to work at its best. Lastly, design is at the core of such an undertaking, and mistakes are expensive, but the team at Garment Printing is happy to guide clients through the whole process to ensure best results.
With more than 15 years' experience in the industry, Garment Printing can perform the dye sublimation process to the highest standard, ensuring that their clients can see their garments come to life in brilliant colours and brands can join Garment Printing in being "all over" their market and competition.
The introduction of this printing technique is good news for Garment Printings clients looking for branding - an all-over printed t-shirt has the benefits of more visibility, more fun and creativity in both creating and wearing the textiles, and the use of full colours all over the shirt with no print size limitations. It is the future of t-shirt printing and Garment Printing, before 3D-printed t-shirts.
About Garment Printing:
Garment Printing is an industry-leading international promotional and customised clothing company that aims to maximise the efficiency of marketing teams and agencies through its integrated, global supply chain. Garment Printing offers a complete range of bespoke personalised t-shirt printing techniques, including screen printing, embroidery, direct-to-garment, and the latest dye sublimation t-shirt printing technology, combined with express turnaround and excellent customer service. Garment Printing's agency work involves consultation with global brands, marketing teams, and promotional agencies to ensure that all printed clothing campaigns are realistic, within budget, and effective. Its dedicated team acts as extended members of the client's business to efficiently exceed customer and client expectations. For more information, visit our website, follow us on LinkedIn, Facebook, and Twitter.