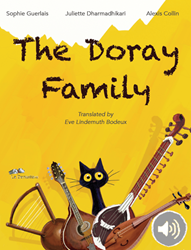 It's time to sing and dance!
Maisons-Laffitte, France (PRWEB) June 19, 2014
Jam with The Doray Family during the Worldwide Celebration of Music. The Doray Family is getting together to make music with all the notes, chords and instruments they know how to play.
The Story
In the Doray Family (do re mi fa so and so on), most play stringed instruments, and if they could, they'd play all day; but their instruments are not that familiar to the rest of us. Today, the Dorays are going to perform two songs to help celebrate the end of the school year. Well, that was what was in the program, but that was before the family cat got involved. This interactive book will entertain kids as well as their parents while sharing interesting information about instruments from throughout history and cultures around the world.
The Artistic Team
The team that produced this book is a bit like the Doray Family: everyone is unique in their own way. Juliette Dharmadhikari hid so many word plays in the original French version of this story that we are still discovering new ones. Eve Lindemuth Bodeux brilliantly translated Juliette's puns and even added some of her own (we're still finding new ones here too). See if you can hear them all during her narration of the story in English. Sophie Guerlais wanted more than to simply sketch these playful characters on a two-dimensional page and their energy is unmistakable. Alexis Collin has succeeded in creating a soundtrack in which we hear these out-of-the-ordinary instruments join together to produce lively tunes and hilarious sound effects.
The Doray Family
Juliette Dharmadhikari, Sophie Guerlais, Alexis Collin, and Eve Lindemuth Bodeux
Website: http://ladentelliere.net/2014/06/16/the-doray-family/
About La Dentelliere:
La Dentellière is a new digital publishing house that was founded in France in 2014. The company makes books specifically for the tablet market. Its endeavor has three characteristics that set it apart:
1) A team of individuals works on its projects, and not only in the digital realm. The artisanal production process includes artists, authors, designers, composers, videographers, musicians and other creatives. Artists are given a share of the profits equal to that of the publishing house.
2) La Dentellière makes books specifically for the tablet market that could not exist on paper.
3) La Dentellière merges low tech with high tech. Unique and inspired books with enduring appeal result from this collaboration. Designed by artists, they offer a sensory-satisfying multimedia tablet experience.
La Dentellière publishes children's books and is also preparing to release collections in the "Do-It-Yourself" and "Literature" segments of the market. Here as well, the artisans perspective will be highlighted and aesthetics will be of the utmost importance. The books La Dentelliere creates for electronic devices are like finely worked lace, hence the name, which means "lace maker" in French.
http://www.ladentelliere.net
http://www.facebook.com/ladentelliereed
http://www.twitter.com/LaDentelliereEd