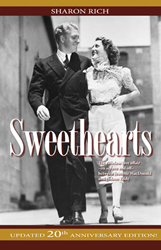 "Your returned kiss – I feel it yet, my dear wife. I dreamed it would be like this. But this night you were intoxicating beyond my fondest dreams – so wonderful." - Nelson Eddy
New York, NY (PRWEB) June 18, 2014
"When first my hand came in contact with that intimate glorious part of you, I almost died of ecstasy, and I knew you did too." So wrote Nelson Eddy in his diary of a "honeymoon" week he spent with Jeanette MacDonald at Lake Tahoe in October 1943. "I remember telling you that you belonged to me – that I would never let you go... Sweet lovely hours, married hours of bliss. I insisted on getting breakfast and when I called you, you were just finishing your bath, so when I told you to hurry, you came in your morning robe of pale blue dotted Swiss. So beautiful you were... I watched your tiny fingers holding the coffee cup, the curve of your wrist as you poured my coffee. Oh my darling, what a mistress for a man's home. I closed my eyes and imagined you presiding at my table when we entertain our friends. How proud I shall be. In all the world there never will have been a man so proud."
They were known as "America's Singing Sweethearts," starring in MGM blockbusters like Naughty Marietta (1935), Rose-Marie (1936) and Maytime (1937). And while the movie-going public sensed their on-screen chemistry was more than just acting, they married other people and supposedly hated each other off-screen. Nothing could be further from the truth. As Nelson wrote Jeanette in a 1947 letter: "I know now that if I live at all it must be in you and through you – the object of my world."
Some of the revelations in the new "Sweethearts" include:

Details of Nelson's WWII spy work
The sex, name and burial location of Jeanette's premature 1938 child with Nelson
Her futile other attempts to have a baby with Nelson
The back stories behind the filming of their movie classics, their celebrity friends, Clark Gable, Jean Harlow, Frank Morgan, director Woody Van Dyke, and the workings of the studio system in the 1930s.
Why Jeanette tried to shove Rise Stevens' head in the toilet
Why MGM's Louie B. Mayer hated Nelson
Additional important photos, documentation and letters.
Jeanette's handwritten letter mentioning a recent heart attack - at age 26.
Who was sleeping with whom on Jeanette's honeymoon
Why they married other people
Jeanette's suicide attempt at the news of Nelson's marriage
Their New Age spiritual search, telepathy and belief that they were twin flames and that their love was timeless, enduring beyond a single lifetime
The blackmail, threats and compromising photos that kept them from obtaining divorces
How they sang special songs and rewritten lyrics on the radio, TV and in concerts to send private messages to each other.
The unconscionable neglect surrounding Jeanette's final days
Several shockers at both their funerals
Author Sharon Rich says, "Despite about 50 pages of detailed source notes, there are still a few unsolved mysteries. Some years back, a national U.S. magazine contacted me about doing an article but first they did their own background research. Their investigator did verify the MacDonald-Eddy romance and also located a woman in Brooklyn with a letter to sell. Hand-written by Jeanette MacDonald to a childhood friend, it gave very damning proof of her continuing intimate relationship with Nelson Eddy. I never saw it but was told by the reporter that Jeanette wrote that the only reason she was still alive (ie, had not taken her own life) was because of her love for Nelson. The woman was demanding $40,000 for the letter but the magazine was not willing to pay. Obviously the woman has passed on but possibly her family or someone else still has the letter in their possession." Rich can always be contacted by email.
Sharon Rich interviewed friends, family and co-workers, had access to hundreds of letters and eyewitness accounts, love letters, diary entries, personal scrapbooks and the unpublished memoirs of both MacDonald and Nelson's mother, Isabel Eddy. In 1994 Rich was a guest speaker at the American Film Institute (East Coast) and the original Sweethearts launch party was hosted by the AFI. In 1995 she was awarded a Dame of Merit by the Knights of Malta for her contribution to History and Literature.
Reviews:
"Offers considerable proof they may have been secret lovers for years." – Robert Osborne
"One of the finest books about Metro-Goldwyn-Mayer and Hollywood during the Golden Era."– Jane Ellen Wayne, The Golden Guys of MGM
"That rarity among star bios, an absorbingly written, exhaustively researched, and fully sourced work." – Preview, AFI
"One of Hollywood's least well-kept secrets." – Mike Tribby, Booklist
Chapter One can be read at this link: http://maceddy.com/sweethearts-excerpt/.
Start reading the Kindle edition immediately or order the softcover edition at: http://www.amazon.com/gp/product/B00KTHKRGG?ie=UTF8&tag=jeanettmacdon-20.