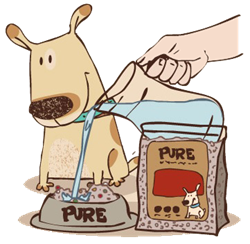 Pure is the first complete pet food in the UK to be fully regulated by human authorities
(PRWEB) June 18, 2014
Pure pet food, the dog food made with nothing but fresh and raw, pure human grade ingredients launches today on the PetOffers affiliate network.
With the aim of providing dog owners with the absolute best food possible for their dog, Pure uses a pioneering process of dehydration to remove moisture from their pet food to lock in and preserve all of its natural nutrients and goodness, resulting in a food which is around four times as dense in nutrients, vitamins and minerals as you would find in fresh fruit and vegetables and almost 300% more protein than you would find in fresh meat.
Made using 100% human grade fresh and raw ingredients, Pure is the first complete pet food in the UK to be fully regulated by human authorities and is backed and recommended by some of the UK's leading vets. Dog owners looking to move away from highly processed commercial pet foods can rely on Pure to provide their best friend with healthy and natural meals that contain the same nutrients and goodness found in raw and home cooked foods.
Available in four different flavours with multiple pack sizes, Pure delivers to pet owners throughout the UK and will pay a generous 10% commission on all sales made by affiliates promoting them through the PetOffers affiliate network. With a 70% reorder rate, affiliates have the opportunity to earn consistent ongoing commissions.
Newly launched PetOffers.com is an exclusive pet network providing pet owners with the opportunity to earn money from home by promoting their pet's favourite toys, treats, food and more to other pet owners online. With free affiliate training and one to one support, even the most inexperienced pet owning affiliate can make an income with PetOffers.
PetOffers Network Manager Rachel Romero says: "The pet industry is absolutely huge, but there is a distinct lack of pet specific affiliate networks out there and we wanted to change this. We want pet owners to be able to share the love and passion that they have for their pets with other owners, and to earn something doing so. We know that there are many affiliates in other niches who unfortunately have a lack of genuine interest in the products that they promote and who are doing it purely for the money. The best affiliate marketers are those who do have a real and genuine interest in what they do. Pet owners naturally have all the ongoing passion, love, and interest needed to thrive on the opportunity to help others choose the best pet products via affiliate marketing. This is why we created PetOffers."
PetOffers aims to become the biggest Pet Affiliate Network by providing all the best pet merchants in one place, with competitive commissions and guaranteed bi-weekly payments, opening the door to anyone with a love of pets, regardless of their previous affiliate marketing experience.
Other offers include Monster Pet Supplies, PetsPyjamas, Zooplus and Pet Supermarket, with more being added in the near future.
Join PetOffers today to start promoting the Pure pet food affiliate offer.