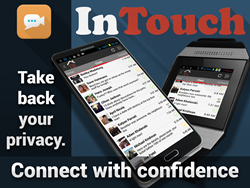 Take back your privacy. Connect with confidence
Melbourne, Australia (PRWEB) June 30, 2014
As the InTouch messaging app launches its crowd-funding campaign, the developers pledge to have taken on the challenge of tackling privacy issues in social 'apping'.
To deal with the privacy sensitivities of sharing via social apps, the InTouch app, developed by a group of travelers, guarantees secure encrypted sharing - between phones. The app effectively makes your phone a private social hub with which you can keep in touch without revealing your phone number or any other personal details.
The team intends to make spying on your personal communication a really hard and cumbersome task. Along with making the app server-less so that communication between two parties never even reaches a server (peer-to-peer technology), they are using cryptographic algorithm - the concept of crowd-sourcing the algorithms - which has generated favorable opinion among the tech community.
Why would encryption be an answer to more private communication? American Civil Liberties Union technologist Chris Soghoian sums it up best; "Encryption makes the NSA's job much more difficult. It's not surprising that they're not happy to see it… But remember the Founding Fathers used encryption, it's something as American as apple pie."
Ganesh Krishnan, CEO of InTouch, adds that the right to privacy is a fundamental right for all of us. "The push by IT giants to de-anonymize everything is inherently wrong. There are many reasons why you might want to keep secrets, and shame might not even be part of it. Sexuality, religion and even sports: Not everyone likes to wear their heart on their sleeves. You might not want others to know because it's none of their business."
A spokesperson for InTouch added: "Our grand vision is to open-source everything including the hardware. This app is our first step towards a more open future. We are in touch with device manufacturers, including wearable technologies, and are working with them to create a custom OS with emphasis on open source and privacy."
The InTouch developers are taking the middle ground when it comes to personal messaging, by making it encrypted and secure - and at the same time - fun to use. The app comes with a host of features that are intended to make communication with your contacts easy and transparent.
This app may be one of many we'll come to see in the near future. New studies show that the year 2014 will be the year a lot of us 'had enough' and will focus on our privacy & security. Overall, awareness about the importance of privacy is growing and the market is responding. Makes sense, if there's any place where our cyber footprint becomes sensitive, it's where we share highly personal content - in our social media.