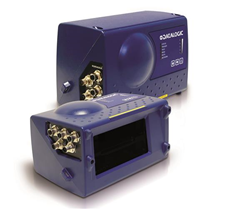 The DM3610 2-Head System provides the most innovative platform for dimensioning applications
Telford, PA (PRWEB) June 18, 2014
Datalogic, a global leader in Automatic Data Capture and Industrial Automation, announces the availability of the high-performance DM3610 Dimensioner2-Head System with OIML and MID certification for irregularly shaped packages.
The DM3610 2-Head System is an in-motion dimensioning system that automatically measures the length, width, and height of cuboidal and irregular packages as they are transported on a conveyor. The system is designed for simple installation and provides an elegant solution for a range of legal-for-trade applications for the parcel and post industries.
"Developing a Legal-for-Trade dimensioning system for cuboidal and irregular parcels with OIML and MID certification is an important step in the development of the DM3610. Now, Datalogic can offer a complete scanning and dimensioning solution to our customers that require legal-for-trade dimensions. With its simple installation, reliable operation, and highly accurate measurements, the DM3610 2-Head System provides the most innovative platform for dimensioning applications." said Marcello Petrucci, General Manager, Identification Business Unit.
Datalogic Group is a global leader in Automatic Data Capture and Industrial Automation markets. As a world-class producer of bar code readers, mobile computers, sensors, vision systems and laser marking systems, Datalogic offers innovative solutions for a full range of applications in the retail, transportation & logistics, manufacturing and healthcare industries. With products used in over a third of world's supermarkets and points of sale, airports, shipping and postal services, Datalogic is in a unique position to deliver solutions that can make life easier and more efficient for people. Datalogic S.p.A., listed on the STAR segment of the Italian Stock Exchange since 2001 as DAL.MI, is headquartered in Lippo di Calderara di Reno (Bologna). Datalogic Group as of today employs about 2,400 members of staff worldwide distributed in 30 countries. In 2013 Datalogic Group achieved revenues for 450,7 million Euro and invested over 35 million Euro in Research and Development with a portfolio of over 1,000 patents across the world. For more news and information on Datalogic, please visit http://www.datalogic.com.
Datalogic and the Datalogic logo are registered trademarks of Datalogic S.p.A. in many countries, including the U.S.A. and the E.U.