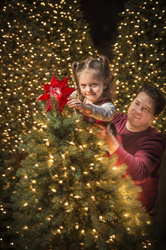 We are excited about employing more local people and bringing the full manufacturing process to the area as early as next year.
Brunswick, OH (PRWEB) June 19, 2014
Santa's Own, a high-end manufacturer and supplier for the holiday market, has announced plans to move some of its manufacturing and assembly work from China back home to its Brunswick, Ohio facility.
The company said rising raw material costs and higher labor rates overseas were among the reasons for bringing business back to the United States. "Our intent is to grow our business each year and also to increase efficiency by manufacturing many of our product components ourselves," said Brian Love, company president.
Love said some state-side product assembly has already begun. "We are excited about employing more local people and bringing the full manufacturing process to the area as early as next year," he said. "The move, ultimately, could involve many new jobs."
Growing Tree
The first tree to be assembled in the U.S. is one of Santa's Own's newest offerings, the Growing Tree. Its versatility allows the customer to extend the tree from a seven-and-a-half foot height to 9 feet, or even 10 feet through the use of additional parts. It's perfect for the customer who wants to move the tree to a room with higher ceilings, fashion a different look or is moving into a new home. Retailers will enjoy the adjustable height feature because it limits the need for them to carry tall tree inventory.
Innovations such as the Growing Tree have allowed Santa's Own to maintain a steady pattern of increasing sales since its founding in 1995. Love says the high quality of his company's products, including their ease of assembly, attractive appearance, and longevity have struck a chord with consumers and given his company a special niche in the marketplace.
The trees being assembled in the U.S. will exclusively feature Stay-Lit lighting. Stay-Lit is a patented technology where a chip in the base of each light bulb will energize to maintain connectivity in the string, even if a bulb should burn out, become dislodged or have a shunt failure. "It's the most fail-safe lighting system on the market," Love says.
Santa's Own has been a wholesale supplier of top-line Christmas and other specialty products since its inception in 1995. View its decorative holiday products, from its Christmas trees to light sets, wreaths, garlands, outdoor décor, and more at its website, santasown.com. Its products are available across the U.S., Canada, and the Caribbean through more than 150 retail outlets.
For further information, please contact:
Leah Cybulski
Public Relations Account Executive
ChicExecs PR - Chicago
3716 East Avenue
Berwyn, IL 60402
708.426.8730 P
866.694.0843 F
Leah(at)chicblvd(dot)com
ChicExecs PR is an "out of the box" PR company which represents over 70 clients. ChicExecs has created an innovative approach to PR dedicated to helping small-medium businesses receive media coverage. Our revolutionary automated system is changing the face of PR. To learn more about ChicExecs, visit Home.