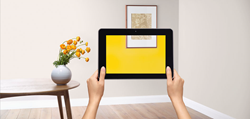 AkzoNobel and Tessella discuss engaging consumers with mobile apps and augmented reality.
Oxford, UK and Boston, US (PRWEB UK) 18 June 2014
AkzoNobel, parent company of some of the world's best known paint brands, and Tessella, an international analytics, software services and consulting company, are hosting a free online webinar for all consumer industry experts.
Companies that engage with consumers directly through digital channels will have the best advantage for creating new growth.
Making this move requires innovative thinking about consumer behaviour and the ability to push the capabilities of existing digital platforms.
In spring 2014, AkzoNobel was delighted to announce the release of AkzoNobel's new Visualizer App for iOS and Android. Visualizer uses cutting-edge augmented reality technology to let people virtually paint their walls and see it live, inspiring and enabling the confident use of colour on walls.
In this webinar, Stewart Longhurst from AkzoNobel's Global Digital Marketing will discuss the background to the Visualizer, and AkzoNobel's desire to be at the forefront of engaging consumers using Augmented Reality. David Hughes, Project Manager at Tessella, will describe Tessella's role in the development and roll out of the app, and in marrying advanced technical components and design concepts into an engaging consumer experience.
Event details
Date: Tuesday 24th of June 2014
Time: 3–4 PM BST/4-5 PM EDT/10-11 AM CEST for 1 hour to include a 15 minute Q&A session
Register to attend the webinar here http://tessella.com/?p=9233.
The Dulux Visualizer app is now available from the App Store https://itunes.apple.com/gb/app/dulux-visualizer/id404007106?mt=8 and Google Play https://play.google.com/store/apps/details?id=com.akzonobel.uk.dulux.
-Ends-
Notes to the Editor
About Tessella
Tessella is an international analytics, software services and consulting company known for finding and delivering innovative answers to the complex business and technical challenges of some of the world's most forward-thinking organizations. We are innovative problem solvers, passionate about science and technology, committed to excellence, and to our clients' success.
Our work includes some of the most exciting and ambitious projects of our time. These projects make the world a better place: increasing productivity in the development of new medicines; designing satellites to observe and understand our universe; harnessing fusion power to provide unlimited, clean energy; minimising risk for workers in harsh and dangerous conditions; and protecting the digital heritage of nations. Visit http://www.tessella.com.
Press contact
Christina Tealdi
Senior PR and Communications Manager
Tel: +44 (0) 1235 546 638 | +44 (0) 7799 346453 | pressoffice(at)tessella(dot)com