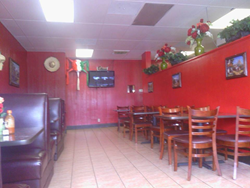 He liked that the chairs are made in the USA because this supports American jobs.
Crown Point, IN (PRWEB) June 17, 2014
Leading commercial furniture distributor, Restaurant Furniture Supply recently helped Fat Burrito in Crown Point, Indiana upgrade their seating by supplying them with American made, solid wood restaurant chairs.
Located in the heart of Crown Point on Main St, Fat Burrito prides itself on serving delicious Mexican food. Local customers enjoy the large portions and friendly service. The chef uses all fresh ingredients and the prices are reasonable. The fare is mostly Americanized Mexican food with entrees such as burritos, tacos, chimichangas, quesadillas, tostadas, carne asada and fajitas. They also serve breakfast which includes among other dishes, huevos rancheros and chilaquiles desayuno - which is three chopped tortillas mixed with eggs and ranchero sauce.
The owner contacted to Restaurant Furniture Supply for new chairs because of their reputation for high quality at competitive prices," explained sales person Zach. "He decided to go with Restaurant Furniture Supply's Premium US Made Ladder Back Wood Chair in dark mahogany finish with padded vinyl seats in wine color."
The Premium US Made Ladder Back Wood Chair sells for $79. A matching Premium US Made Ladder Back Wood Bar Stool is also available and sells for $92. Customers can choose from 6 different finishes or have a custom finish made for an additional charge. Customers also have the choice of a solid wood seat or an American made padded seat made of vinyl or other fabric which can be custom upholstered. As with most of Restaurant Furniture Supply's products, the Premium US Made Ladder Back Wood Chairs and bar stools are made in the USA from wood responsibly harvested in the Midwest.
"It's a America's most popular restaurant chair. As a business that experiences heavy customer traffic, the owner knew he would need chairs and bar stools that would look great and would be durable and stand up to heavy usage," Zach remarked. "Also he liked that the chairs are made in the USA because this supports American jobs."
For additional seating, he also chose Restaurant Furniture Supply's Standard Single Quick Ship Booth and Standard Double Quick Ship Booth in wine. The booth comes in black and wine in heights of 36" and 42". The Standard Single Quick Ship booth sells for $188 and can be delivered in 7 – 14 days.
Restaurant furniture Supply offers a wide variety of restaurant booths. All restaurant booths are made in the USA by skilled craftsman and are known for their quality and durability. Booths can be custom made in any shape or size and out of any material.
For tables he ordered Restaurant Furniture Supply's Custom Laminate Table Tops with T-Mold edge. The table tops come in round, square or rectangular shapes in many sizes. The price for Laminate Table Tops with T-Mold Edge starts at just $42. "They are a great choice for restaurants because they are very durable and resistant to stains and scratches," explained Zach.
Browse Restaurant Furniture Supply's full selection of commercial grade chairs, bar stools, table tops, table bases, booths and patio furniture at http://www.restaurantfurnituresupply.com or talk to a customer service representative at (888) 346-9992.
Fat Burrito is located at 1302 N. Main St.in Crown Point, IN They can be contacted at: (219) 213-2382.