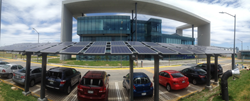 PROINSO will present its online store for PV products: Click & Collect, which has more than 200 collection points in 50 states.
(PRWEB) June 18, 2014
Following the opening of a new office in Boston, PROINSO, leading supplier of solar products, will attend PV America, a trade show to be held between June 23rd and 25th in Boston. PV America is a leading event for PV solar professionals in the eastern United States.
At booth 432 in an event attracting over 3,000 trade members, PROINSO will showcase more than 500 products it distributes around the world. The reason why the company plans to attend this trade show is that it has set the goal of strengthening its presence in the US, especially in the east coast.
'Our recent expansion, opening a branch in Boston and a distribution centre in Edison (New Jersey) has turned PROINSO into a key actor in the increasingly dynamic market on the east coast,' said PROINSO US Manager Pablo Gonzalez. 'To this we should add the 392 US-based Qualified Installers who joined our International Network.'
Previously, PROINSO had branches and a distribution centre in San Francisco and Sacramento, in the west coast.
'The United States are a priority market to us this year. This is the reason why we've made technical and human efforts to create our new online service, Click & Collect, enabling customers to purchase PV products online and collect them in over 200 pickup points in 50 states,' Gonzalez explained.
Available at http://store.proinso.net/usa/, the new platform creates a safe online purchasing channel at which PROINSO offers services and products from SMA, Canadian Solar, ReneSola, Solar World, Jinko Solar, Lightway and Mounting Systems.
The new platform provides a number of benefits: It is available 24/7, user-friendly (purchase is made in five simple steps), flexible in terms of logistics (products can be collected in the closest of the more than 200 points established by PROINSO across the country) and has zero cost for storage (if the order is picked up within five days).
Plus, it offers four- to six-working-day delivery, except in Hawaii and Puerto Rico, where delivery takes longer.