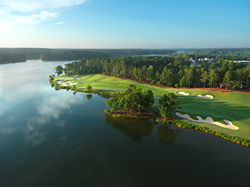 Award Winning Master-Planned Community on Lake Oconee Georgia
Atlanta, Georgia (PRWEB) June 18, 2014
Something special is happening at Reynolds Plantation, an award winning Lake Oconee golf community and everyone is invited. The first-ever Big Break Invitational, a four-day tournament featuring previous stars from Golf Channel's exciting golf reality show, is coming to Reynolds Plantation September 30-October 3, 2014 and will air live on Golf Channel. Footage will include stunning views of one of the best lakes in Georgia, 19,000 acre Lake Oconee. Golf tournaments at Reynolds Plantation are nothing new to the community but what is new, the multi-year deal with the Golf Channel and the Big Break brand. The folks at Reynolds Plantation are excited to share the southern charm.
Beginning on Sept 30- Oct 3, appearances from repeat guest like Tommy Gainey (winner of 2007 Big Break Invitational) will grace the green for the four- day event that includes 40 contenders competing on 72 holes. Hosted, lakeside by the Ritz Carlton Lodge Resort at the Reynolds Plantation, the tournament's format includes Stableford Scoring, Match Play and Stroke Play, a $300,000 purse with $100,000 going to the winner.
Golf tournaments at Reynolds Plantation are simply part of the community's history, playing host to such prestigious events like the PGA Cup and Professional National Championship, as well as the annual Linger Longer Collegiate Invitational. The lakefront golf community features six masterfully designed courses by the five greats: Tom Fazio, Jack Nicklaus, Rees Jones, Jim Engh and Bob Cupp; all embrace the natural setting as Audubon Cooperative Sanctuaries that showcase the beauty of life on the lake.
The Landing is the original course in the Lake Oconee golf community. Designed by Bob Cupp in 1986 and ranked as the #2 course in Georgia features winding turns and rolling hills that will appease to all levels of golf. Two years later Bob Cupp then designed The Plantation; a par- 72 that was later redesigned in 2005 and voted as one of "America's Best Golf Courses" by the Zagat survey in 2007. The next course, designed by Jack Nicklaus in 1992, Great Waters is a scenic experience since the last 8 holes are set right alongside the water. In 1997, The National designed by Tom Fazio features some of his best "Fazio flare," resting within a densely forested area showcasing small peak a boo views of the lake. Rees Jones stepped on the scene in 2002 with his risk/reward layout of the Lake Oconee course, home to the annual Linger Longer Collegiate Invitational. And lastly, Creek Club is a member's only course and the newest addition. Designed by Jim Engh in 2007, the course flows in and out of mild and dramatic terrain, each hole an unexpected challenging adventure.
Golf tournaments at Reynolds Plantation are only some of the selling points of Lake Oconee.
Take a peek at Reynolds Plantation homes.
Lake Oconee is one of the best boating lakes in Georgia; it's the second largest lake in the state having 19,000 acres of water, 374 miles of shoreline and services three counties: Greene, Putnam and Morgan. A wide array of bass like large mouth, white, hybrid and striped, including sunfish, bream, crappie and catfish live in Lake Oconee. Reynolds Plantation is located about 1.5 hours east of Atlanta. Homes begin in the $400k range and feature traditional Georgian style plantation homes within the same range. These lakeside neighborhoods are the perfect places to enjoy life on Lake Oconee to the fullest by offering an abundance of social groups, tennis courts with stadium seating, golf clubs, full service marinas and boat ramps, fitness centers, a Heritage Nature Center and Reynolds Golf Academy. Here's a list of the extensive amenities at Reynolds Plantation:
REYNOLDS PLANTATION AMENITIES
24 Hour Manned Gated Entrance
Six 18 Hole Championship Golf Courses
Reynolds Golf Academy and The Kingdom at Reynolds Plantation
Five Golf Clubhouses
Six Resort-style Swimming Pools
16 Tennis Courts with Stadium Seating
38,000 Square Foot Fitness Center
Heritage & Nature Center
Four Full Service Marinas with Boat Ramps
Ritz-Carlton Lodge
Lake Oconee Villages - retail shopping complex
As one of the best boating lakes in Georgia, Lake Oconee is everything a nature, golf or boat enthusiast would love to call home and whether you enjoy a Tuscany style community or a more traditional southern look. In celebration of this special event, Reynolds Plantation is inviting golfers to take advantage of a summer-long opportunity to play the tournament's host course, try some of the famous "Big Break" skills challenges and return in the fall to watch the competition.
To check on Discovery Package availability, call Reynolds Plantation direct at 706.467.1133.
About Real Estate Scorecard:
Real Estate Scorecard writes unbiased real estate reviews providing in-depth information about popular gated communities in Florida, Georgia, North Carolina, South Carolina and Tennessee, all in an effort to help people discover where to retire in the Southeast.
Website: http://realestatescorecard.com