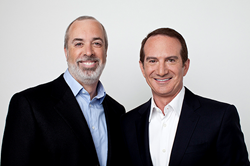 Fairfax, VA (PRWEB) June 19, 2014
Two powerhouses in the financial advice field are joining together with the goal of providing one million Americans unprecedented access to financial education, financial planning services and investment management.
Ric Edelman, three times ranked the #1 Independent Financial Advisor in the nation by Barron's,(1) and David Bach, one of the most successful personal finance authors in history, announced today that Bach is joining Edelman Financial Services as Vice-Chairman. Edelman will continue as Chairman and CEO.
Bach joins Edelman Financial as the firm is engaged in remarkable growth; the firm has more than 24,000 clients nationwide, with more than $12.75 billion in assets under management.(2) The firm added 4,500 clients last year and is on pace to do the same in 2014. Bach will have a key role alongside Edelman in the firm's educational activities, which already include weekly radio and television programs, frequent media interviews, hundreds of seminars, a massive web presence, newsletters, blogs and email blasts, and of course, personal finance books.
Edelman has written eight books and is a #1 New York Times bestselling author. The Truth About Money and The Lies About Money each earned "book of the year" awards by the Institute for Financial Literacy. Collectively, more than one million copies of his books are in print and have been published in six languages.
Bach, meanwhile, is the author of eleven consecutive national bestsellers, including the #1 New York Times bestsellers, The Automatic Millionaire and Start Late, Finish Rich, and has seven million copies cumulatively in print, in 18 languages worldwide.
Edelman appeared on The Oprah Winfrey Show five times; Bach appeared six times and was a regular contributor to NBC's The Today Show as well. Both men have appeared on The View, CBS, ABC, Fox, CNN and CNBC, and both have been profiled in many major publications including (between them) The New York Times, The Washington Post, The Wall Street Journal, USA Today, Financial Planning, Investment Advisor and Investment News.
"I have long been an admirer of David," Edelman said. "We share the same philosophy and approach to personal finance and investment management, and we both want to make personal finance accessible to millions of people. We know that as a team we can reach more people and give them the education and planning services they need to help them enjoy a more secure financial future."
Bach said, "I've dedicated the past 20 years of my life – first as a financial advisor and now as a financial educator – to providing objective financial advice to millions of Americans via my books, seminars and media appearances. Teaming with Ric now is a professional thrill as it allows me to leverage my experience and financial education platform to reach more people and connect them nationwide to this premier advisory firm. Edelman Financial Services is a great fit because Ric and I think so much alike and his firm has no equal in the financial planning field."
In addition to developing more financial education content addressing the most urgent financial challenges facing Americans today, which they'll distribute via broadcast, print, digital and stage, Edelman and Bach will deliver practice management training and consulting services for financial advisors to help them improve their practices and the services they provide to their clients. The duo plan to recruit hundreds of advisors from around the country to join the firm's 35 current offices or manage new ones that the firm plans to open – all part of the firm's goal of serving one million Americans.
About Edelman Financial Services
Edelman Financial Services provides financial planning and investment management services for individuals and families, as well as 401(k) plans and institutional investment management for businesses. For investment advice and other financial planning services, or to speak with an advisor, call 888-PLAN-RIC (888-752-6742) or visit RicEdelman.com.
Advisors interested in learning more should contact Ed Moore, President of EFS at ed(dot)moore(at)ricedelman(dot)com.
Ric Edelman is Chairman and CEO of Edelman Financial Services LLC, a Registered Investment Adviser, and CEO, President and a Director of The Edelman Financial Group Inc. He is an Investment Adviser Representative who offers advisory services through EFS and a Registered Principal of (and offers securities through) Sanders Morris Harris Inc., an affiliated broker/dealer, member FINRA/SIPC.
1. According to Barron's, "The formula [used] to rank advisors has three major components: assets managed, revenue produced and quality of the advisor's practice. Investment returns are not a component of the rankings because an advisor's returns are dictated largely by each client's risk tolerance. The quality-of-practice component includes an evaluation of each advisor's regulatory record." The rankings are based on the universe of applications submitted to Barron's. The selection process begins with a nomination and application provided to Barron's. Principals of Edelman Financial Services LLC self-nominated the firm and submitted quantitative and qualitative information to Barron's as requested. Barron's reviewed and considered this information which resulted in the rankings on Aug. 27, 2012/Aug. 28, 2010/Aug. 31, 2009.
2. As of March 31, 2014.