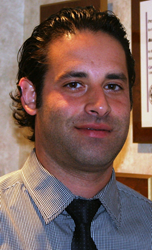 Brooklyn, NY (PRWEB) June 17, 2014
People suffering from periodontal disease can now visit Dr. Navid Baradarian for advanced laser gum surgery. Dr. Baradarian has joined a small number of dental professionals in offering the LANAP® protocol as an alternative to traditional gum surgery. The LANAP® gum disease treatment is highly effective, and it eliminates many of the undesirable side effects associated with more invasive procedures.
When he performs the LANAP® treatment, Dr. Baradarian does not have to make any incisions or remove any healthy tissue. Instead, he uses the PerioLase® MVP-7™, an FDA-cleared laser, which is precise enough to remove diseased tissue without causing any damage to healthy tissue. After taking a measurement of the patient's gum pockets, Dr. Baradarian uses the laser to destroy bacteria and remove diseased gum tissue. He then uses an ultrasonic tool to clean the teeth below the gumline. As a final touch, he uses the laser a second time to stimulate cellular regeneration and the formation of a blood clot.
Laser gum surgery with Dr. Baradarian offers many benefits for patients who were reluctant to undergo conventional gum surgery. Immediately after the procedure, most people experience minimal bleeding or discomfort. Many patients can return to their normal activities the same day after having the LANAP® treatment. Since the procedure is minimally invasive and healthy tissue is left intact, patients benefit from a low risk of infection. For people with receding gums, the procedure's preservation of gum tissue is advantageous. The LANAP® protocol is also the only gum disease treatment that actively helps prevent teeth from being lost; the laser used in the procedure, the PerioLase® MVP-7™, stimulates alveolar bone regeneration, which may help teeth anchor to the bone more securely.
If left untreated, periodontal disease can have numerous detrimental health effects. Periodontal disease can cause gum recession, tooth damage, tooth loss, and even loss of alveolar bone density. Research also shows periodontal disease is associated with a heightened risk of various health problems, including heart disease, stroke, and pancreatic cancer. Dr. Baradarian recommends that patients pay attention to potential periodontal disease symptoms, such as gum inflammation, pain, and bleeding, and seek gum disease treatment promptly. Anyone who needs to schedule a consultation about laser gum surgery or other treatment options is encouraged to call Dr. Baradarian's office today.
About the Doctor
Marine Park Periodontics and Implantology is a periodontal practice offering patients personalized dental care for Brooklyn and New York, NY. Dr. Navid Baradarian became a Doctor of Dental Surgery at State University of New York at Buffalo School of Dental Medicine; he earned a Certificate with honors in Productivity and Patient Care from New York University Advanced Education in General Dentistry - New York, NY, and received extensive training in implant dentistry; he achieved his Specialty Certificate in Periodontics at University of Medicine and Dentistry of New Jersey. Dr. Baradarian is part of one percent of dental professionals providing the LANAP FDA cleared laser procedure for gum disease and periodontal treatment. To learn more about Marine Park Periodontics and Implantology and their dental services visit their website at http://www.marineparkperio.com and call the Brooklyn location at (347) 586-5997 or New York City at (917) 472-9904.