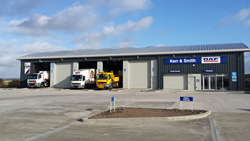 Leeds, UK (PRWEB UK) 18 June 2014
In order to service the diverse range of vehicles, Kerr & Smith needs a good oil supplier and, more than ten years ago, the owners of the business started a relationship with Q8Oils to supply oils and other lubricants for various vehicle types, and for the business's four sites.
Commenting for the company, managing director Paul Kerr says that during the long relationship, the business has never experienced any problems. "The Q8Oils team has always been very helpful, always delivered what we needed and on time; and the level of service they have established with us continues to this day."
The business has recently relocated its Ayr site to a brand new purpose built, 4-acre site commercial vehicles site that specialises in heavier commercial vehicles but also features a fully equipped ATF Lane for testing all vehicles – cars, HGVs and PSVs. The team can provide pre-MOT testing, PMI inspection, LOLER checks and repair and maintenance for any fleet and all makes, no matter how large or small. Paul says the growth potential for the new site is enormous and the test facility allows staff to provide a fast turnaround for any mix of car and commercial customers.
Regarding product deliveries, Kerr & Smith stores its Q8 oils in bulk tanks, so typically orders 1000 or 1500 litre bulk quantities of engine oils to various specifications, which are delivered within a day or two. Smaller quantities of hydraulic oils, gear oils, greases, etc. are ordered over the phone with the Q8Oils customer service centre in Leeds and also delivered within a couple of days.
"There have never been issues with delivery for any orders and this is important to us because in our business customers, especially HGV customers whose vehicles are making money for their businesses, can't afford to have vehicles off the road for any length of time." explains Paul.
He goes on to say that if products are required to keep Kerr & Smith customers on the road, a reliable supplier of quality oils and lubricants is essential, which is why Kerr & Smith have used Q8Oils for so long and why they continue to use them today.
The high specifications of modern vehicles demand oils and lubricants created with the same high technologies used to design and manufacture components such as engines, axles, etc. Q8Oils supplies those products and have helped Kerr & Smith to understand the specifications and the choices they need to make.
For further information on its range of passenger car and commercial vehicle lubricants and petroleum-based derivatives, call Q8Oils on 0113 235 0555, email marketing(at)Q8Oils(dot)com or visit http://www.Q8Oils.co.uk.