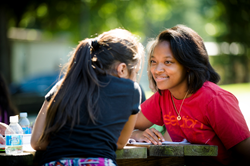 At UNCG, we pose the question, 'What can we do together that we cannot do alone?'
Greensboro, NC (PRWEB) June 18, 2014
Greensboro has made the shortlist of top college towns for socially conscious students, with The University of North Carolina at Greensboro leading the way.
BestColleges.com, an online resource for prospective students, has named Greensboro one of the "Best Cities for Service-Oriented Students." UNCG is the largest university in Greensboro and the Piedmont Triad region with nearly 18,000 students. To view the other U.S. cities on the list, visit http://www.bestcolleges.com/features/cities-for-service-oriented-students.
UNCG adopted the motto "Service" in 1893 shortly after its founding. Service and community engagement are woven into the campus culture both inside and outside the classroom.
During the 2013-2014 academic year, UNCG students contributed nearly 813,000 hours of volunteer service, mostly in the Greensboro community.
Service-learning provides hands-on experience for students and engages the community in a positive way, said Cathy Hamilton, director of UNCG's Office of Leadership and Service-Learning. "At UNCG, we pose the question, 'What can we do together that we cannot do alone?'"
UNCG has made the Corporation for National and Community Service's Presidential Honor Roll since the honor roll's inception seven years ago, and is one of 73 colleges and universities recognized by NASPA-Student Affairs Administrators in Higher Education as leaders in cultivating civic-minded students. For eight consecutive years, UNCG has made Washington Monthly's list of American universities that contribute most to the public good.
***
The University of North Carolina at Greensboro is a challenging, supportive and engaged community where learning is carried forward to "Do something bigger altogether." Founded in 1891, UNCG is the largest and most diverse university in the Triad, serving nearly 18,000 students. Standing apart from other universities, the UNCG community is joined together by a shared value: We define excellence not only by the people we attract, but by the meaningful contributions they make.