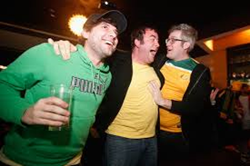 Many UK companies are scoring a bit of an own goal by assuming staff won't take the time to either cheer on their team or nurse hangovers over the World Cup
(PRWEB UK) 18 June 2014
MeetingZone, the global online meeting specialist, has revealed that nearly 60% of UK employees think their boss or colleagues will take the opportunity to 'work from home' or 'work remotely' during the World Cup.
A poll of 1000 office workers, conducted by OnePoll, ahead of England's first weekday matches also revealed that:

Workers in London and the West Midlands were least likely to trust the boss or colleagues – with 71% believing they won't be in the office over the World Cup
Unsurprisingly the Scots were least likely to be glued to the TV with 67% saying that colleagues will be in the office
Almost 30% of UK workers or colleagues plan to work from home around England's World Cup fixtures by either taking the day of the game or the day after as a 'work from home' day
"Many UK companies are scoring a bit of an own goal by assuming staff won't take the time to either cheer on their team or nurse hangovers over the World Cup, especially given the late kick-offs for England games," said Patrick Jocelyn, chief marketing officer at MeetingZone.
"While we all want to enjoy the World Cup, if you're stuck in the office it's quite easy to imagine that your bosses empty seat means they've bunked off to watch the games. The key to ensuring that productivity and morale levels remain unaffected is to plan ahead and use technology to stay in touch and be visible."
About MeetingZone
MeetingZone, an independent conferencing and collaboration service provider, delivers easy to use, cost-effective, high-performance, personalised integrated audio and web conferencing services to global organisations of all sizes, across all business sectors.
MeetingZone's solutions improve internal and external business communications by quickly and easily bringing together remotely located people into the same conference call. MeetingZone's HQ is located at Thame, Oxford, UK and has operations in Europe and North America.
For more information visit: http://www.meetingzone.com.
Conducted in June on behalf of MeetingZone by independent market research company, OnePoll