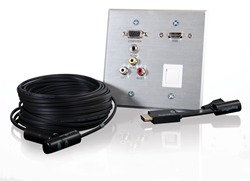 Dayton, OH (PRWEB) June 17, 2014
C2G (http://www.c2g.com), the preferred provider and trusted expert of high performance cabling and connectivity solutions, will launch the newest version of what has become the standard for modular A/V cabling, RapidRun. The new fiber-based RapidRun Optical provides all the cost and time savings of RapidRun, with the high performance needed to carry today's UltraHD digital signals.
RapidRun Optical is the leanest-longest, fastest-strongest RapidRun product yet! Designed to be the standard for in-wall audio/video installations, it is capable of transmitting high definition digital A/V signals up to 1,000 feet. The solution features 18Gbps bandwidth, a diameter of just a half inch and OFNP (plenum) rating, providing sufficient bandwidth to serve the audio/video needs of commercial applications from classrooms to lecture halls and auditoriums to boardrooms for years to come. Its fiber-based construction prevents electromagnetic and radio frequency interference, allowing it to be used in the most sensitive environments such as healthcare and government facilities.
"RapidRun has long been the standard for modular cabling solutions," explains Garry Dukes, director of product management at C2G. "With the introduction of RapidRun Optical, we are bringing to market the next generation of modular cabling solutions that address the needs of today's A/V applications – namely, delivering high definition digital content over longer distances. By leveraging the original RapidRun modular cabling concept combined with advances in cabling technology, we are able to deliver a smaller, faster and longer solution to A/V integration and installation professionals."
As part of its RapidRun showcase, C2G will also release two new upgrade kits that are designed to be used with an existing RapidRun Multi-Format or PC installation. These kits require a simple switching out of the existing connector cables (also called flying leads) and wall plates, rather than pulling a new runner cable.
The new RR digital upgrade kits are available today and the new RR Optical is available now for pre-orders and is expected to be available to ship July 18th. These RapidRun solutions will be on display at InfoComm, June 18 – 20, 2014, in C2G's Booth: C6019. For more information, please visit http://www.c2g.com.
# # #
About C2G
C2G is a division of Lastar, Inc, a global leader in IT, A/V, datacom cabling and connectivity solutions since 1984. C2G delivers connectivity solutions renowned for superior quality, value and innovation and are backed by their uncompromising commitment to customer service. C2G is best known for being the cabling and connectivity supplier of choice for industry leading technology resellers and distributors and has operations across North America, EMEA, and Asia. For more information regarding C2G, visit http://www.c2g.com.
C2G and Cables To Go are registered trademarks of Lastar, Inc. All other trademarks are the property of their respective owners.
Media Contact:
Alec Vaughn
Director of Corporate Marketing and Communication
(937) 531-7946
avaughn(at)c2g(dot)com