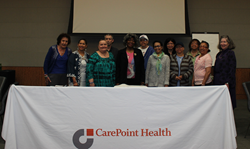 Hudson County, NJ (PRWEB) June 17, 2014
In recognition of Cancer Survivors Day, CarePoint Health hosted the First Annual Cancer Wellness Day and luncheon on Thursday, June 5, 2014, at the W Hotel in Hoboken. The event was attended by cancer survivors, their families, community members and medical staff. Guest speaker Carol S. Blecher, Advanced Practice Nurse and Clinical Educator at the Trinitas Comprehensive Cancer Center, delivered an informative presentation entitled: "Me, a Cancer Survivor? – Living with, through and beyond cancer." The event was part of CarePoint Health's ongoing commitment to provide health and wellness opportunities to the communities served by Bayonne Medical Center, Christ Hospital and Hoboken University Medical Center.
Carol S. Blecher, an Advanced Practice Nurse with 23 years of oncology experience, was the featured speaker at the event. Her presentation focused on ways survivors cope with a cancer diagnosis and outlined physical and emotional tools needed to protect health and wellness. She reviewed the four stages of survival: Acute Survival, Transitional Survivorship, Extended Survival, and Permanent Survival. Blecher noted signs to watch during cancer treatment, including fatigue and depression, long term effects of chemotherapy, and highlighted ways to get back into life. While a cancer changes the patient and the family forever, Blecher emphasized that people are survivors from the day of diagnosis and that family and caregivers are also survivors.
According to the National Cancer Survivors Day Foundation, a nonprofit organization that provides networking to hospitals, support groups, and other cancer-related organizations, National Cancer Survivors Day is an annual, treasured celebration of life that is held in hundreds of communities nationwide. It is a celebration for those who have survived, an inspiration for those recently diagnosed, a gathering of support for families, and an outreach to the community. Participants unite in a symbolic event to show the world that life after a cancer diagnosis can be meaningful, productive, and even inspiring.
For more information about the First Annual Cancer Wellness Day, contact:
Allyson Miller
CarePoint Health
Vice President of Marketing and Public Relations
Phone: 201-858-5297
Fax: 973-646-5563
Email: AMiller(at)bayonnemedicalcenter(dot)org
About CarePoint Health
CarePoint Health brings quality, patient-focused health care to Hudson County. Combining the resources of three area hospitals - Bayonne Medical Center, Christ Hospital in Jersey City, and Hoboken University Medical Center - CarePoint Health provides a new approach to deliver health care that puts the patient front and center. We leverage a network of top doctors, nurses and other medical professionals whose expertise and attentiveness work together to provide complete coordination of care, from the doctor's office to the hospital to the home. Patients benefit from the expertise and capabilities of a broad network of leading specialists and specialized technology. And at CarePoint Health, all of our medical professionals emphasize preventive medicine and focus on educating patients to make healthy life choices. For more information on our facilities, partners and services, visit our website, http://www.carepointhealth.org.