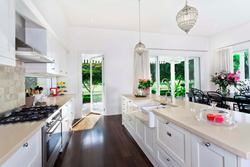 Huntersville, NC (PRWEB) June 18, 2014
Microban® built-in antimicrobial product protection technology enables architects to differentiate their portfolio, save their clients money, add value to their project as well as provide products that stay cleaner for longer and inhibit deterioration due to bacteria, mold and mildew. There is an increased demand for antimicrobials in the commercial construction space and because of that the antimicrobial market in US construction is growing rapidly with a CAGR of 13.2%. Microban is on the cutting edge of helping architects capitalize on this growth, providing the products they use with antimicrobial technology along with the tools they need to find and learn more about specifying these products into their buildings. Since Microban's antimicrobial technology helps keep product surfaces cleaner for longer, products used can represent potential cost savings to facility managers and building owners.
When it comes to differentiating a portfolio among a vast number of competitors, Microban's state-of-the-art technologies, proven results and brand recognition are all reasons why specifying products that incorporate their antimicrobial product protection would benefit even the most competitive of portfolios. Built in to products during the manufacturing process, Microban product protection inhibits the growth of microbes such as bacteria, mold and mildew that can cause stains, odors and product deterioration, damaging surfaces. Microban antimicrobial product protection ensures continuous, durable and effective efficacy that provides an added level of defense against damaging microbes without ever wearing off or washing away for the lifetime of the product.
Microban has just come out with a new specification sheet that can be found on http://www.arcat.com, the leading online resource of free building product information, along with an e-catalog featuring how Microban technology works. A full list of products that use Microban antimicrobial product protection in the architectural field can be found at http://www.microban.com/architect.
The global leader in built-in antimicrobial technology, Microban is also debuting their new continuing educational program which is AIA approved for 1.0LU/HSW hour and is hosted on the AEC Daily Online Learning Center. This program is a great tool for those who want to know more about antimicrobial technology and how products that use them can help both their projects and clients. Visit http://www.aecdaily.com/sponsor/microban for more information and to take the course.
For more information about Microban and their state-of-the-art antimicrobial technologies, please visit http://www.microban.com/architect.
About Microban
Microban International, Ltd. is a global technology and marketing company dedicated to enhancing high quality consumer, industrial and medical products with branded built-in protection from microbes. The Microban® brand is an important consumer trustmark for effective and long lasting antimicrobial product protection. Microban International licenses the Microban® global brand name, sells custom-engineered compounds, and provides a range of services, including regulatory and marketing support. Microban International is headquartered in North Carolina with operations in North America, Europe and Asia. For more information on Microban, please contact (704) 875-0806 or visit microban.com.