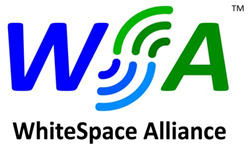 Chelmsford, MA (PRWEB) July 08, 2014
The WhiteSpace Alliance (WSA) ®, a global industry organization enabling sharing of underutilized spectrum, today announced development of its interoperability specification for Wi-FAR networks.
Wi-FAR, derived from the IEEE 802.22 Standard on Wireless Regional Area Networks (WRAN), provides low cost broadband Internet access through dynamic allocation of underutilized TV band spectrum ("whitespace"). The Wi-FAR specification integrates intelligent spectrum management capabilities such as location awareness and database access to identify and utilize TV whitespace spectrum. The WSA specification defines the physical layer interfaces (PHY) and Media Access Control (MAC) needed to interconnect Wi-FAR devices from multiple vendors. The specification enables reliable deployment of TV whitespace solutions while causing no interference to the primary services in the spectrum.
"Interoperability is the critical requirement for developing a robust ecosystem of solution providers," said Dr. Apurva Mody, Chairman of WhiteSpace Alliance. "This specification, and the testing procedures we are currently developing, will significantly accelerate development and deployment of cost-effective products using whitespace spectrum."
The enhanced Wi-FAR standard will provide significant improvements in broadband throughput and distance at relatively low cost. Each Wi-FAR cell will provide 22-29 Mbps of aggregate throughput per TV channel with support for up to 512 devices. Typical distances covered will range from 10 to 30 km, enabling cost-efficient deployment of broadband access and backhaul solutions to regional, rural and remote areas under the line-of-sight and non-line of sight conditions.
About WhiteSpace Alliance
The mission of the Whitespace Alliance (http://www.whitespacealliance.org/) is to promote the development, deployment and use of standards-based products and services as a means of providing broadband capabilities via WhiteSpace spectrum. By promoting the use of standards, the Alliance will enable companies to provide broadband connectivity at reasonable cost. The WSA will also act as an enabler of the emerging white spaces ecosystem by helping to put in place interoperability, conformance, and compliance testing to make sure that our member stakeholders get the needed information & collaborations to succeed both in the market place and with regulatory requirements. Interoperability specifications will allow multiple vendors to enter the market and help to reduce the costs for the consumers. WhiteSpace Alliance promotes the use of IEEE, 3GPP and IETF Standards for use in the WhiteSpaces.
WSA is a registered trademark of the WhiteSpace Alliance
Wi-FAR is a trademark of the WhiteSpace Alliance