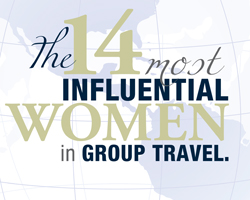 Washington DC (PRWEB) June 18, 2014
Group Travel Magazine has honored Laura Mandala, managing director of Mandala Research, as one of its "Most Influential Women in Group Travel".
The honor celebrates the leading 14 women in group travel across the travel and tourism industry in the US.
Laura has been a longtime champion of women in travel, having founded Women in Travel & Tourism International, which provides networking, mentoring, lead-sharing and philanthropic opportunities for women in the industry. As head of Mandala Research, Laura operates one of the leading travel and tourism research firms in the world, helping destinations and travel companies make the right decisions to attract the right travelers.
Laura received this designation earlier this May from Groups Today based on readers' nominations. See the entire list here.
Groups Today is the US' leading group travel website and publication, providing focused, insightful content for the group travel professionals.
About Mandala Research:
Mandala Research is one of the leading travel and tourism research companies in the world. The firm has pioneers the "firsts" of many niche studies in the travel industry and offers extensive knowledge of several growing demographics and trends, including U.S. Hispanic travelers, wine and culinary tourism, Gay and Lesbian travelers, The International Shopping Traveler, Travelers from Growth and Emerging Markets and the African American Traveler. Mandala's clients include destinations, major travel brands, government agencies, associations and more, with extensive expertise in brand tracking, brand equity and brand identity research. For more information, visit Mandala Research.