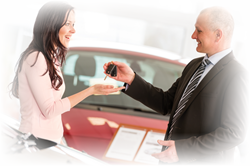 'We're honored to be an inaugural member of Kia's certified lead integration program,' said ProMax Unlimited CEO John Palmer.
Davenport, IA (PRWEB) June 19, 2014
Dealer Marketing Services, Inc., the makers of ProMax Unlimited today announced their approval by Kia Motors America (KMA) as a Certified Lead Management Provider. This certification enables Kia dealers to manage their inbound leads through ProMax's award-winning Customer Relationship Management (CRM) and Internet Lead Management (ILM) modules.
"We're honored to be an inaugural member of Kia's certified lead integration program," said ProMax Unlimited CEO John Palmer. "We always strive to give our dealers the tools they need to succeed and this integration will enhance their efficiency and make it easier to convert leads into automobile sales."
OEM (Original Equipment Manufacturer) leads are sent directly into a dealership's ProMax system, allowing them to work all their incoming internet leads, including those from the manufacturer. OEMs track response times, knowing there is a direct correlation between quick response times and high conversion ratios. Responding to leads in ProMax 'stops the clock' with the manufacturer.
"Our ILM module has been a big focus," said ProMax Unlimited CTO, Darian Miller. "We've added so many features to it recently that our ILM is now without a doubt one of the best on the market." Over the past year, ProMax has made a multitude of improvements to its Internet Lead Management module, including new lead delivery options, activity monitoring with alerts, and salesperson reassignment notifications, giving dealers greatly expanded ability to receive and respond to leads whether at a desktop on the lot or at home from their smartphone.
"This certification is very exciting for us," said Shane Born, COO of ProMax Unlimited. "Providing innovative solutions to minimize lead response time is our goal, and through extensive development and testing, we have created software which satisfies Kia's high standards of quality."
ProMax is a certified lead management tool for most OEMs including Chrysler/Fiat, Ford, GM, Honda/Acura, Hyundai, Nissan/Infiniti, Toyota/Lexus, Mazda, Mercedes, Mitsubishi, Volvo, Volkswagen, and now Kia.
About ProMax Unlimited
Dealer Marketing Services, Inc. was formed in 1994 by John Palmer. In August of 1995, ProMax was introduced as a Special Finance software solution. In 1998, the software was expanded to handle all types of desking including new and used vehicle leasing, CRM, finance menus, inventory management, reports, and credit application submissions to lenders. In 2002, ProMax was introduced as the industry's first Internet-based full front end solution and today is used by over 2,000 automotive dealerships. The ProMax Unlimited internet application integrates with dealership DMS systems and can be used effectively in large dealer group situations as well as single location dealerships. Dealer Marketing Services, Inc. also provides credit bureaus, website development and hosting, internet leads, and direct mail services to help dealerships increase traffic. Learn more about ProMax Unlimited and Dealer Marketing Services, Inc. at http://www.ProMaxUnlimited.com.
About Kia Motors America
Kia Motors America (KMA) is the marketing and distribution arm of Kia Motors Corporation based in Seoul, South Korea. KMA proudly serves as the "Official Automotive Partner" of the NBA and LPGA and surpassed the 500,000 annual sales mark for the second consecutive year in 2013 following the launch of seven all-new or significantly redesigned vehicles. KMA offers a complete line of vehicles, including the rear-drive K900** flagship sedan, Cadenza premium sedan, Sorento CUV, Soul urban passenger vehicle, Sportage compact CUV, Optima midsize sedan, Optima Hybrid, the Forte compact sedan, Forte5 and Forte Koup, Rio and Rio 5-door sub-compacts and the Sedona midsize multi-purpose vehicle, through a network of more than 765 dealers across the United States. Kia's U.S. manufacturing plant in West Point, Georgia, builds the Optima* and Sorento* and is responsible for the creation of more than 14,000 plant and supplier jobs. Information about KMA and its full vehicle line-up is available at http://www.kia.com.