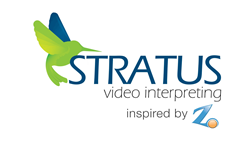 We took steps to virtually eliminate the disadvantage caused by language barriers and allow non-English speakers to fully participate in the judicial process.
Clearwater, FL (PRWEB) June 18, 2014
The complex court system has historically confounded even the most proficient English speakers, but the process can be even more overwhelming for non-English speakers who may struggle to comprehend the complicated legal jargon spoken within the courtroom – particularly in Florida, where a reported 8.3 percent of the population speaks no English (1). In response to the growing need for certified language services within the court system, the Florida Supreme Court recently adopted amendments to the previous requirements of certified interpreters in the Florida court system. The ruling, according Video Remote Interpreting(VRI) company Stratus Video Interpreting, is the first step in cementing a solution to the nationwide need for qualified interpreters within U.S. court systems and protecting the civil rights of all Americans. And on the heels of the recent New York Times article citing the climbing demand for court interpreters against state budget conflicts, VRI technology is also cost-effective (2) – a boon for cash-strapped court systems.
The Florida Supreme Court took a step towards equal access within its state courts by accepting amendments to the Florida Rules for Certification and Regulation of Court Interpreters program, which oversees the certification of court interpreters through the use of written and oral language proficiency examinations. When originally adopted in 2006, the rules instituted two levels of expertise for foreign language interpreters working in the courts: "certified" interpreters and "duly qualified" interpreters. However, the discrepancies between the differing levels of qualifications soon "created a double standard under which certified interpreters are required to meet rigorous standards while "duly qualified" interpreters are not" (3) – prompting the Florida Supreme Court to accept the proposed amendments which eliminate the disparity between differing qualifications and outline the minimum certification requirements for each designation.
According to Stratus Video CEO, Sean Belanger, the amendments are a likely response to pressure upon state governments to improve the availability of qualified language services in their courts. The key difference between court certified interpreters and their duly qualified counterparts is that certified interpreters understand court protocols and legal terminology, but more importantly, have also demonstrated an ability to interpret simultaneously, meaning that they are speaking the foreign language as the originator speaks – which is extremely challenging, per Belanger, who adds that less than 10 percent of interpreters pass the mandated oral exam. As a result, court-certified interpreters are far and few between and often demand high compensation – a fact which Belanger says often forces courts located in smaller and less populous jurisdictions to rely on bilingual staff members to interpret, causing non-English speaking individuals in those jurisdictions to typically receive subpar interpreting and quite possibly, inferior justice in their court proceedings than they otherwise would have in a larger or more populous jurisdiction.
"In smaller court systems, court-certified interpreters would need to be outsourced, requiring the court to pay for the interpreter's travel in addition to an expensive hourly rate for what may only be a ten-minute proceeding, remote video interpreting will be the only solution," said Belanger.
Some feel that the court's ruling, while a necessary civil rights movement, will plug up the court system with long delays due to a lack of certified interpreters while also increasing costs – to which Stratus has responded with its advanced video remote interpreting service that can be loaded onto any PC, Mac, smartphone or tablet; the technology can even be applied to Polycom and Cisco systems. Through a virtual private network, court systems are able to place an encrypted call to one of Stratus' 33 video call centers across the U.S., and the next available interpreter in that language is found and connected in less than 30 seconds.
"We took steps to virtually eliminate the disadvantage caused by language barriers and allow non-English speakers to fully participate in the judicial process," said Belanger. "In court rooms, decisions are made about a person's life, future or freedom and people have an inherent right to be made fully aware of what's transpiring."
Stratus believes that VRI offers an affordable interpreting option that not only sets the standard for language service quality while delivering a level playing field across all court systems, but can also help restore public faith in the courts for equality and accuracy.
Stratus specializes in the medical field and in court interpreting, but the company's technology is applicable to every industry. Stratus employs experienced, highly-qualified interpreters who can either be used to supplement an existing interpreting infrastructure or to replace live and over-the-phone interpreters altogether.
For more information about Stratus and its services, visit http://www.stratusvideo.com.
About Stratus Video Interpreting:
Stratus Video Interpreting provides on-demand interpreter services by using technology to connect clients with interpreters in over 175 spoken and signed languages in less than 30 seconds. Stratus' cloud-based video solution delivers an array of unique features to virtually any Internet-enabled PC, Mac, smartphone or tablet. Stratus clients use the technology to connect with their own staff interpreters, as well as with Stratus interpreters, who have years of healthcare and courtroom experience and hold multiple certifications. With Stratus, state-of-the-art video remote interpreting is made available with virtually no capital investment. Stratus averages 65,000 video calls a day, up from 40,000 in mid-2013. Stratus Video is the sister company of The Z® (CSDVRS, LLC, dba ZVRS), which was established in 2006 and developed by and for deaf and hard of hearing individuals, setting the industry standard as the nation's premier Video Relay Service Provider and the first VRS Provider to receive a 5-Year certification from the FCC. For more information, visit http://www.stratusvideo.com.
1."Seven Percent of Americans Don't Speak English." N.p., 6 Oct. 2013. Web. 29 May 2014. examiner.com/article/seven-percent-of-americans-don-t-speak-english.
2.Santos, Fernanda. "As the Demand for Court Interpreters Climbs, State Budget Conflicts Grow as Well." The New York Times, 14 June 2014. Web. 17 June 2014. nytimes.com/2014/06/15/us/as-the-demand-for-court-interpreters-climbs-state-budget-conflicts-grow-as-well.html?_r=3.
3.Supreme Court of Florida (n.d.): n. pag. Florida Courts. 27 Mar. 2014. Web. 29 May 2014. flcourts.org/core/fileparse.php/419/urlt/sc13-304.pdf.