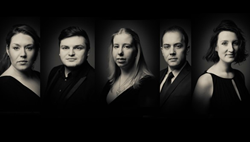 Each year the competition between students is extremely high and 2014 was no exception.
(PRWEB UK) 18 June 2014
This year's winners were Russian postgraduate pianist Alexander Panfilov, aged 25 who studies with Graham Scott; Welsh postgraduate pianist Leanne Cody, aged 24 who studies with Peter Lawson; undergraduate percussionist Delia Stevens, aged 22 from Leicestershire, who studies with Simone Rebello, Liz Gilliver, Ian Wright, Dave Hassell and Paul Patrick; postgraduate soprano Lauren Fielder, aged 28 from Newark, Nottinghamshire, who studies with Mary Plazas; and Columbian postgraduate composer Sergio Cote, a 27-year-old pupil of Adam Gorb and Paul Patterson.
The annual competition, adapted this year from its usual weekend format to a full day event which, for the first time, offered composers the chance to compete by writing a new work for the Borealis Saxophone Quartet, took place at the Martin Harris Centre for Music and Drama while the RNCM's £3 million Concert Hall refurbishment continues. It was adjudicated by Professor Linda Merrick (RNCM Principal), Dr Michelle Castelletti (RNCM Artistic Director), Jessica Duchen (classical music journalist for The Independent), Robert Saxton (composer), and Simon Webb (General Manager of the BBC Philharmonic).
Talking after the Competition, Professor Merrick said: 'The RNCM's much-coveted Gold Medal celebrates exceptional performance and composition by students at the College. Each year the competition between students is extremely high and 2014 was no exception. The adjudicating panel was faced with very difficult decisions on the day and while Alexander, Delia, Lauren, Leanne and Sergio were worthy winners, everyone who competed should be extremely proud of all they achieved on their journey to the final.'
The other 2014 competitors were: oboist Helen Clinton, saxophonist Michael Jackson, violist Kimi Makino, violinist Kana Ohashi, pianist Jeremy So, soprano Meinir Wyn Roberts, and composers Nelson Bohorquez, Richard Evans and Aled Smith.
For more information or to request interviews and images, please contact Liz Rowley, PR and Media Relations Officer, at liz.rowley(at)rncm(dot)ac.uk or 0161 907 5369.
ENDS
Notes to Editors:
Picture caption, from left to right: Lauren Fielder, Alexander Panfilov, Leanne Cody, Sergio Cote, Delia Stevens. Copyright Paul Cliff.
LEANNE CODY (piano)
Gold Medal Programme:
Joe Cutler On the Edge
George Benjamin Shadowlines
György Ligeti Étude No 10 'Der Zauberlehrling'
Leanne graduated with a first class music degree from Manchester University and a Higher Graduate degree from the RNCM. She has been offered a scholarship from the RNCM and a bursary from the James Pantyfedwen Trust with the title of F W Wright Piano Scholar to study as a postgraduate under Peter Lawson.
Over the past year she has given regular recitals at Wigmore Hall, Purcell Room, St Martin-in-the-Fields and The Bridgewater Hall, and she has been selected as a Park Lane Young Artist. As a concerto soloist, she has performed with the Halesowen Orchestra, University of Manchester Symphony Orchestra and Vaganza New Ensemble. She has been the recipient of many prizes, including the Procter-Gregg Award from Manchester University and the Patricia Cunliffe Award for new music performance from the RNCM. Leanne is also a keen ensemble and orchestral player and has had the opportunity to perform with the Hallé Orchestra as an orchestral pianist, conducted by Sir Mark Elder for a Radio 3 recording. She has frequently performed with the RNCM orchestras and has been selected for the Britten-Pears Orchestra Academy in 2014 and the London Sinfonietta Academy in 2012. For the past two years she has performed for BBC Radio 3 as part of the Proms Composer Portraits and has twice played at the Wigmore Hall as part of the RNCM's Day of Song.
SERGIO COTE (composer)
Gold Medal Composition:
Periculum (world première of an RNCM commission)
Sergio is a Colombian composer based in Manchester. He studied composition (BMus) at Universidad Javeriana in Bogotá, Colombia where he had lessons with Guillermo Gavíria, Jose Ignacio Hernández and Carlos Julio Ramírez. In 2011 he won the Colombian National Prize of Music for Young Composers with the piece Likchachiy for chamber ensemble. In 2012-13 he was a lecturer and tutor of composition and theory at Universidad Javeriana. This labour is currently postponed whilst he finishes his postgraduate studies (MMus) in composition at the RNCM under the guidance of Adam Gorb and Paul Patterson.
Whilst being part of the RNCM he has also had lessons with Simon Bainbridge, Peter Swinnen and John McCabe. During the last months he has had pieces workshopped by Manchester Camerata and the BBC Singers. His last premièred pieces were: Terra autem erat inanis et vacua... for woodwind quintet, premièred in the RNCM's Landscapes of the Mind: The Music of John McCabe festival, Periculum in Mare for saxophone quartet, premièred at the Manchester Town Hall and choreographed by George Williamson for dancers of the English National Ballet, Uncertain for the Rosamund Prize competition at the RNCM and Lines about Flat Lines premièred as part of the Wittener Tage für neue Kammermusik by IEMA (International Ensemble Modern Academy) in Witten, Germany.
LAUREN FIELDER (soprano)
Gold Medal Programme:
Wolfgang Amadeus Mozart Come scoglio from Così fan tutte
Richard Wagner Selections from Wesendonck Lieder
Roger Quilter Dream Valley
Roger Quilter A Last Year's Rose
Roger Quilter Love's Philosophy
Pietro Mascagni Voi lo sapete from Cavalleria Rusticana
Lauren is coming to the end of her postgraduate studies at the RNCM with Mary Plazas, supported by the Musicians Benevolent Fund Maidment Scholarship. At the College she won the 2013 Dame Eva Turner Scholarship Award, and has been a finalist in the Frederic Cox Award, the Chris Petty English Song Prize, and the Bessie Cronshaw/Frost Brownson Song Cycle Competition. Lauren has also participated in a masterclass with the late Barbara Robotham.
The Wesendonck Lieder was the repertoire that went on to secure Lauren a win in the 2014 RNCM Concerto Auditions. At the same time Lauren sang the role of Mathurine from Gluck's less well known comic opera L'ivrogne corrige ('A Drunkard Cured').
Lauren covered the soprano soloist's role in Tippett's A Child of Our Time at The Bridgewater Hall with the RNCM Symphony Orchestra, Chorus and Chamber Choir and performed a selection of Mahler and Mascagni songs, including the Quartet from La Bohème as Musetta in the College's 2014 Day of Song at the Royal Exchange Theatre, Manchester. Lauren will début as Santuzza in Mascagni's Cavalleria Rusticana in July 2014 and perform her Concerto win in the RNCM's 2014/15 season.
ALEXANDER PANFILOV (piano)
Gold Medal Programme:
Ludwig van Beethoven Fantasia Op 77
Frédéric Chopin Ballade No 2 in F major Op 38
Igor Stravinsky Three Movements from Petrushka
Alexander was born in Moscow and has performed as a soloist throughout Europe and the USA at many international venues including Carnegie Hall, Musikverein (Vienna), and Moscow Philharmonic halls. Alexander has won First Prize in the Taranto and Brant piano competitions; Second Prize in Mauro Monopoli competitions; and the Third Prize in Vercelli International Music Competition. Since starting studies at the Gnessin special music school for gifted children, Alexander went on to enter the Moscow State Conservatory under Professor Andrei Diev. In 2012 he was awarded the full scholarship to study at the RNCM under Professor Graham Scott. Alexander is a Leverhulme Arts Scholar and is currently supported by Liberty Living. He has also taken part in masterclasses and lessons with such artists as Naum Starkman, Robert Levin, Martin Roscoe and Richard Goode. Alexander is also a keen chamber musician and regularly plays with cellist Christoph Croise and soprano Ilona Revolskaya. His repertoire spans an array of styles from Baroque to 21st century and includes 15 piano concertos.
Next season Alexander is looking forward to participating in Menuhin Festival, Lincolnshire Chamber Music Festival and Ribble Valley Piano Week; and to his upcoming solo recitals at The Bridgewater Hall and Birmingham Town Hall.
DELIA STEVENS (percussion)
Gold Medal Programme:
Casey Cangelosi Nail Ferry from Naglfar
Per Nørgård Hexagram No 57: 'The Gentle, The Permanent' from I Ching
Leigh Howard Stevens Rhythmic Caprice
Compagnie Kahlua Ceci n'est pas une balle
Delia is a fourth year scholarship percussion undergraduate at the RNCM. She has performed live on BBC Radio 3 in the 2013 BBC Proms, reached the 2008/10 Category Finals of the BBC Young Musician of the Year Competitions and won the 2012 RNCM Concerto Competition, performing Dorman's Frozen in Time with the RNCM Symphony Orchestra. Delia is also proud to be a soloist on Yehudi Menuhin's ground-breaking scheme Live Music Now, performing in community settings such as hospitals, schools and prisons.
A keen chamber musician, as the co-founder of the Aurora Percussion Duo, Delia enjoys considerable success, winning the 2012 Royal Over-Seas League and Park Lane Group Competitions. Delia enjoys playing in an eclectic range of ensembles including Another Contemporary Music Ensemble, performing at the Huddersfield Contemporary Music Festival, and the Candela Salsa Band. Delia founded her band, Project Jam Sandwich, a world-folk fusion collective which has recently performed on BBC Radio 3 and in the 2014 Celtic Connections Festival. Delia has collaborated with indie-band Daughter and Cathal Mo Chroi (Chas Smash) from Madness within the Joe Duddell Ensemble.