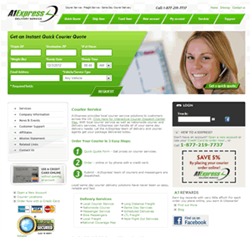 Atlanta, GA (PRWEB) June 18, 2014
A-1 Express, a leader in messenger, same-day delivery and transportation services, announces origin-to-origin courier services. The Portland Courier has made the announcement in order to inform customers of its variety of courier service options, expand its current customer base, improve delivery inefficiencies, and promote sales. A-1 Express pursues to be the best choice for same-day delivery services nationwide.
A-1 Express is able to meet the same-day delivery needs for clients who request an origin-to-origin service request. An origin-to-origin courier service consists of a package or document in which the client's end receiver can only accept via courier. As a result, a customer may require the pick up location and destination to be the same. These highly-sensitive document types include bids, proposals, and servings. A-1 Express performs courier deliveries for friendly servings only, therefore, anyone at the origin can sign for the package or document.
With origin-to-origin services, customers have the ability to meet with A-1 Express at the origin in a matter of hours. For this type of service, customers are recommended to request the A-1 Express two-hour service. The courier service can not set a specific time to arrive at the origin, therefore, the service being performed within a two-hour window is the optimal solution. Customers can place the order via phone or online. If placing the order online, customers should make notes for A-1 Express regarding an origin-to-origin service request and complete the online form accordingly. Therefore, the pick up and destination addresses will be identical. If needed, upon receipt of the online order, A-1 Express will contact the customer to confirm the directives to ensure an on-time delivery.
If ordering via phone, the A-1 Express representative will confirm the origin-to-origin service, including if the pick up location contact will be the caller or someone else. Customers can also request that A-1 Express call the pick up contact before or upon arrival. Whether it is five minutes or thirty minutes, A-1 Express will accommodate its' customers to assist in performing an efficient same-day delivery. For any special courier requests regarding origin-origin courier services, A-1 Express is available 24/7 to discuss any location adjustments or delivery instructions.
A-1 Express Courier is a leading same-day courier for distribution and freight services nationwide. From small packages to packages to palletized freight, A-1 Express delivers fast. With superior customer care, courier expertise and modern courier technology, A-1 Express is able to provide optimal logistic courier solutions. Based in Atlanta, Georgia, A-1 Express services a growing list of over 1,500 clients, including Fortune 500 companies throughout the US.