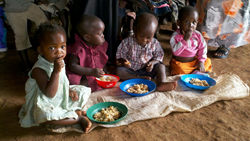 (PRWEB) June 17, 2014
Rod Brooks is determined to build a global movement of people to unite behind the goal to end hunger. "It's a cruel injustice," said the President of Stop Hunger Now. "We produce enough food for every person on the planet. The only reason why hunger exists is because it is allowed to exist!"
While Brooks and his organization are experts at the complicated mechanics of sending millions of highly nutritious meals around the world, they are less proficient when it comes to creating a social media campaign to raise awareness about hunger, or uniting thousands of individual voices to advocate for change.
IBM stepped in with a Strategies in Social Media Impact Grant to the organization that included a workshop delivered by IBM consultants who guided the agency through a series of steps to best target its audience, set goals, adjust its governance to empower employees to effectively use social media and position its brand for better results.
"We came to this workshop understanding that social media is the best possible tool for building and scaling a movement," Brooks said. "It's how many other injustices have been tackled and are being solved. What we lacked was a plan to grow, manage, centralize our messaging and launch effective campaigns designed to ignite activity," he continued. "That's where IBM came in."
Introduced in 2010, IBM Impact Grants help educational and not-for-profit organizations enhance their IT infrastructure, and leadership and technology skills. "IBM's corporate citizenship strategy includes sharing its best resource---IBM experts and an innovative package of IBM business tools designed to help nonprofits build capacity," said Steven D. Pearson, IBM Manager of Corporate Citizenship and Corporate Affairs in North Carolina. "We have awarded more than two dozen Impact Grants in North Carolina over the last few years, with a total value of $750,000."
One of the key elements of Stop Hunger Now is the meal packaging program which gives volunteers the opportunity to participate in an international hunger relief program. The challenge is turning occasional volunteers into constant champions. Social media can provide frequent opportunities to stay actively engaged in supporting the vision of a world without hunger.
"It is very important that any organization, especially a volunteer driven non-profit, have a robust social media strategy," said Jim Green, Chief Development Officer at Stop Hunger Now. "Our organization provides an amazing and powerful volunteer experience, but for most of the volunteers and donors, this is a once-a-year or even once-a-lifetime event. To keep our stakeholders committed, interested and involved, Stop Hunger Now needs an authentic social media experience to compliment the hands-on activities we do. IBM's guidance provided Stop Hunger Now with a clear path to making this a reality."