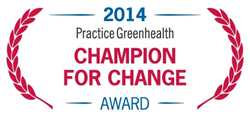 Muncy, PA (PRWEB) June 18, 2014
Construction Specialties (C/S), a leading manufacturer of high-performing commercial architectural building products such as Acrovyn Wall Protection, Acrovyn Door Systems, Pedisystems Entrance Flooring and C/S Expansion Joint Covers, is pleased to announce that it has been chosen to receive its sixth consecutive Champion for Change Award from Practice Greenhealth. C/S shares this impressive achievement with only one other manufacturer – Johnson & Johnson, makers of health care products and medical devices. The award was presented at CleanMed 2014 in Cleveland, OH, on June 5, 2014, and honors healthcare suppliers that have not only taken steps to improve their organization's green practices but have gone the extra mile to help their clients and associates expand their sustainable practices as well.
For over twelve years, C/S has been on a continual journey to improve sustainability in its products as well as its manufacturing practices. Many of C/S' products have been Cradle to Cradle Certified Gold or Silver and several of its facilities in Pennsylvania are ISO 14001 certified. Also C/S has been an industry leader in eliminating chemicals of concern in the built environment.
"During the six years, as we have enjoyed and benefitted from our membership in PGH, we've been pleased to watch - and be a part of - an ever-expanding awareness of the innumerable opportunities to improve and enhance healthcare. PGH continues to raise the level of patient care environmentalism for the sake of improved outcomes and work environments. We learn through our association with PGH, our business benefits, and we enjoy being a part of the work through our sponsorships. We look forward with you as we thank you for honoring us with this 2014 Champion for Change Award. We will all win because of the work you do," said Curt Fessler, Marketing Manager at Construction Specialties.
"Construction Specialties was a founding member of Practice Greenhealth, joining in 2008, and has had the foresight to commit to creating less toxic, less wasteful, and more sustainable architectural products. C/S has accomplished much in the area of 'Chemical Responsibility' with exemplary efforts to reduce their use of toxic chemicals, to identify and replace problematic chemicals in their supply chain and for publicly supporting legislation promoting green chemistry or regulating toxic chemicals," said Lara Sutherland, Director of Business Membership at Practice Greenhealth.
For more information about Construction Specialties, visit their website and follow on Twitter @csinconline.
###
About Construction Specialties
Construction Specialties manufactures and sells specialty architectural products internationally, with over 30 offices and manufacturing facilities worldwide. Its products include interior wall and door protection, entrance flooring, expansion joint covers, louvers, grilles, sun controls, explosion vents, smoke vents, and cubicle track/curtains. The company serves architects and designers, building owners, facility managers and contractors. Construction Specialties, Inc. was founded in 1948 and is headquartered in Lebanon, New Jersey.