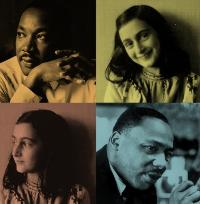 New York, NY (PRWEB) June 18, 2014
The Civil Rights Act of 1964 was the single most important piece of legislation passed by Congress in American history, outlawing discrimination based on race, color, religion, sex, and national origin, but its passage was in no way easy. As "New York Times" editor Clay Risen explains in his new book, "The Bill of the Century: The Epic Battle for the Civil Rights Act," the story of the law's passage is a sweeping tale of undaunted activism, political courage, historic speeches, backroom dealmaking, and finally, hand-to-hand legislative combat.
Join The Anne Frank Center USA as we mark the 50th anniversary of this landmark legislation with a unique program comprised of a reading by Clay Risen and a performance of our signature theater piece, "Letters from Anne and Martin."
"The Bill of the Century" has been hailed as "deeply researched [and] beautifully written" (Robert Dallek) and as "edge-of-your seat, as-it-happens history" (Jeff Shesol). Risen's reading and book signing will take place alongside "Letters from Anne and Martin," The Anne Frank Center's original production that combines the iconic voices of Anne Frank and Martin Luther King, Jr. Developed from excerpts from "The Diary of Anne Frank" and Dr. King's "Letter from Birmingham Jail," the piece evokes the important messages from these legendary figures, as they write of their hopes and plans for a peaceful and unified world.
A Q & A, book signing, and reception will follow the program.
44 Park Place, New York, NY 10007 - Wednesday, July 2nd from 6:30-8:30
To purchase tickets, visit: http://billofthecentury.brownpapertickets.com/
$8 adults; $5 students and seniors (65 and over)
If purchasing tickets at The Anne Frank Center, please RSVP first at (212) 431-7993 or email info(at)annefrank(dot)com
Clay Risen (http://www.ClayRisen.com) is an editor at "The New York Times" op-ed section. Before that, he was an assistant editor at "The New Republic" and the founding managing editor of the noted quarterly "Democracy: A Journal of Ideas." His recent freelance work has appeared in such journals as "The Atlantic," "Smithsonian," and "The Washington Post." His first book, "A Nation on Fire: America in the Wake of the King Assassination" was hailed as "compelling, original history" (Peniel Joseph) and "a crucial addition to civil rights history" (Publisher's Weekly, starred review). He is also the author of "American Whiskey, Bourbon, and Rye: A Guide to the Nation's Favorite Spirit."