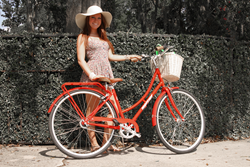 Dallas, TX (PRWEB) June 19, 2014
Urban Cyclists are turning to online bike shops this summer for wider selections of urban city bikes and much lower prices than their local bike shops can offer. Sites like Bikesdirect.com are fully stocked for the summer and customers are scooping up all types of urban city bikes and hybrids to enjoy while the weather is warm. Customers on bizrate.com have cited the ability to shop without having to haggle with a salesperson was a major draw as well.
Most consumers are comfortable with buying pretty much anything online and that includes bicycles. With geometry and height charts for each bike, free shipping and no sales tax for the majority of the U.S., sites like Bikesdirect.com have become appealing to consumers of all ages.
Internet savvy urban cyclists especially are flocking to the web to scoop up the latest city bikes that their local bike shops just don't have the ability to offer at such low prices. Urban cyclists are concerned with saving money, their health and the environment and are certainly familiar with shopping online. Other bizrate.com reviewers say their purchase online was a no brainer. Shopping from one's couch is more appealing to this generation it seems. Choosing a size based on the height charts in the listings is very easy and the site can then ship the bike right to the customer's front door for free. All of this without having to talk prices and warranty with a salesman. All of the specifications, reviews and photos can be found online with the click of a your mouse.
Urban cyclists, as concerned as they are with spending their money wisely, have learned that setting up their bike and making adjustments is actually much easier to do than professionals make it out to be. Ordering online, setting up the new bike in a living room or garage and getting out on the road the following morning is just that easy. With YouTube videos on bike setup and adjustment, riders are deciding to teach themselves how to do it. This way, while out on the road, a rider can fix their flat without panicking or having to walk to work.
So if purchasing a new bicycle is on the brain, online bike shops are proving to be less intimidating than most once thought. Customers are very surprised at how easy it is to find, purchase and assemble their new city bicycle just by watching a few YouTube videos. Not only will one feel empowered with their new-found mechanical skills but they will no doubt have the best summer yet while riding around town with friends on a sweet new set of wheels.