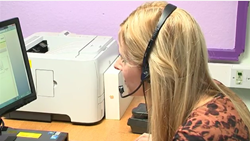 I think it's very supportive, having someone talking to you through an earpiece as they lesson goes on - and also very natural in terms of an observation.Lauren Sharpe
Newport, Wales (PRWEB UK) 19 June 2014
ITV Reporter, Tom Sheldrick, visited the school to find out how they are using the IRIS Connect's lesson observation technology as part of their school improvement programme. A key focus of the report was on the use of live coaching and the positive impact of receiving immediate feedback during a lesson, rather than "a list of pros and cons at a later date".
As one of the 1,000 schools using IRIS Connect in the UK, including 38 in Wales, Duffryn High School is an example of the move towards the use of supportive video technology for teacher development. As mentioned in the report, the importance of placing teachers in control of the video observation process, through individual accounts, strict permissioning and the use of a secure cloud-based platform, is paramount to the success of this approach.
With the in-ear remote coaching facility, teachers receive live feedback from their mentor during the lesson and are able to see immediate impact on teaching and learning within context.
Experiential learning in action has helped teachers improve their practice and gain confidence. The school was recently praised due to the majority of it's lessons being judged good or excellent by education watchdog Estyn.