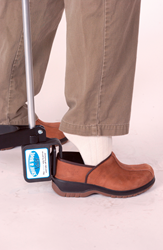 "Go on the internet or ask any orthopedic professional and they will say that putting on and taking off shoes and socks is one of the biggest obstacles concerning major orthopedic surgery." - Trent Morris, CEO, Valet Product Line.
Tulsa, Oklahoma (PRWEB) June 18, 2014
Major orthopedic and other major surgeries require extended rehab periods from 3-8 months. According to the Center of Joint Preservation and Replacement at the UConn Heath at the New England Musculoskeletal Institute (http://nemsi.uchc.edu/clinical_services/orthopaedic/totaljoint/discharge/pdfs/discharge_totalhip.pdf):
"If you are already sitting down, do not lean forward to pick anything up off the floor. Use your 'reacher/grabber' to pick things up from the floor or leave them there until someone else can pick the object up for you; if you must pick something up from the floor use the 'golfer's stance' to do so. Do not try to put your shoes on in a conventional manner." The Shoe Boot Valet is the only product specifically designed and built for this purpose.
Over 50 million people in the US alone have mobility problems. Bending, reaching and putting on and taking off their footwear is one of the most troubling issues they face daily. The SBV eliminates all problems pulling on and taking off footwear and the SBV even has an attached bootjack to remove shoes and boots with ease. The newly patented "Sock Valet" will do the same for donning socks and compression hosiery and will be out later this year.