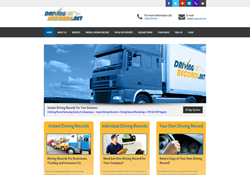 Order Driving Records for all 50 states.
(PRWEB) June 19, 2014
TR Information Services is happy to announce their newly redesigned Driving Record website - http://www.drivingrecords.net.
"To keep our content and data fresh for our clients we have redesigned our DrivingRecords.net web site with an updated theme and easier to use interface," said Todd Mayers, Marketing Manager. "The web site provides a new look and easier navigation."
The new website allows companies to order individual driving records on current and/or prospective employees for employment screening purposes . There is also the option to sign up for Instant Driving Record retrieval for Trucking and insurance companies. Driving Records are available from all 50 states, DC, Canada and Puerto Rico
DrivingRecords.net has also added a compliance section with FCRA information, adverse action procedures and sample release forms. There are also social network features so their clients can get updates via Facebook and Twitter on new DOT/DMV regulations and news effecting the transportation and insurance industry.
If your company needs to run driving record or pre-screen employees that drive company vehicles then DrivingRecords.net will make it fast and easy for you order driving records from any state. By accessing driving records directly through DrivingRecord.net employers can reduce risks associated with negligent hiring and potential negligent entrustment liability that may result from putting the wrong person behind the wheel of a company vehicle.
TR Information Services has been offering Driving Records for over 20 years. While they specialize in the trucking and insurance industries, TR Information Services provides its service to any sized company that may need it. Other service included Driving Record Monitoring, CDLIS, FMCSA – PSP reports.