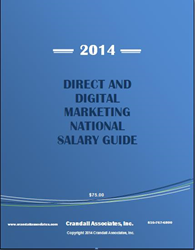 "I rely on this Salary Guide extensively when hiring direct and digital marketers"
(PRWEB) June 18, 2014
Find out what other companies pay for direct and digital marketing talent.
Crandall Associates, Inc. is an executive search firm best known for the recruitment of direct & digital marketing professionals. However, significant resources are devoted towards the annual updated Salary Guides, which are known to be an invaluable resource for those charged with hiring such professionals.
Through hundreds of executive searches, and conversations with thousands of direct and online marketing professionals, Crandall Associates compiles data, updated annually, on salaries for 56 different job functions. This method was chosen in lieu of a survey method, which is subject to distortions, including the fact that respondents are self-selecting.
The information is garnered from direct and online marketers on both the client side and the agency side, both B-C and B-B. The Guide, which features 56 positions in direct and online marketing, provides job titles plus pagelong descriptions for these positions, with a low, medium and high salary for every position. Also taken into account are regional variations in salary information, through an index that includes not only the 50 states, but also specific metro areas.
The salaries range the gamut from VP Marketing to Ecommerce Director, Director Client Services to Director Digital Marketing, SEO Manager to Social Media Director, and many others, in disciplines as varied as marketing, creative, database, account management, search and social.