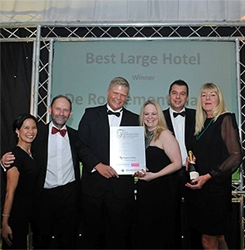 "I've told so many business associates about Gina's work. They should use Gina, 100%, don't think about it just do it.
(PRWEB UK) 24 June 2014
In 2013, the four-star De Rougemont Manor scooped the Best Large Hotel Award from the Essex Tourism and Hospitality Awards. Now the hotel is delighted to report a consistent 70% increase in business over the past four years, which it accredits to Gina's straightforward, no nonsense approach to strategic planning and business continuity.
Partner Jason Hilton and his sisters Davine and Victoria inherited the hotel after the death of their father Ian, and had the unenviable task of bringing the hotel, its facilities and service into the spotlight. "But, we knew we couldn't do it by ourselves," said Jason.
"Having enlisted the services of Gina Gardiner Associates, we reported a 40% increase in business in the first year and three years on and we are really pleased with the continued growth and success. Gina's consistent levels of continuity planning and advice have made a significant difference to the way the hotel operates. At monthly meetings, we review everything from the structure of the business through to service delivery, paying attention to details such as customer service and staff performance. Gina also helps us plan for staff appraisals, but most importantly enables us to be open and honest about our shortcomings, as well as our successes, conversations that can be difficult to have when the business partners are family members. Gina enables us to examine our roles, our behaviours and enables us to hold ourselves accountable when things don't go according to plan. She can ask the sorts of questions we find difficult to ask each other."
When Jason and his sisters took the helm, the De Rougemont Manor employed around 30 members of staff, today the hotel employs 50 including three members in the new marketing department. "Our staff retention rates have always been pretty good," remarked Jason, "but as the success of the hotel has grown so has the staff moral and individual performance has improved. Gina's methods have included more inter-company communication and regular staff meetings, which helps to keep everyone informed about the important issues concerning the day to day running of the hotel."
With the continued growth of the hotel's resources, the partners have been able to plough back into the business the expanding revenue, enabling further regeneration and marketing initiatives.
"I've told so many business associates about Gina's work and it surprises me if they don't engage her services," said Jason. "They should use Gina, 100%; don't think about it, just do it. Gina makes it very easy from the outset. In the first instance, Gina offers a free consultation and highlights where initial improvements can be made, once engaged she puts together a structure and meetings schedule and agenda. With Gina's help we saw almost instantaneous results," concludes Jason.
For more information about Gina Gardiner, contact 01206 230497 or visit http://www.ginagardinerassociates.co.uk.
Gina Gardiner is a successful and experienced inspirational speaker, author, trainer and executive business coach specialising in the development of leadership and personal empowerment. Over the past 30 years, Gina has worked with a number of individuals and organisations including the National Health Service, CAPITA, DFES and Microsoft, helping people develop confidence, leadership and people skills to ensure lasting success.
Gina has written three books: How You Can Manage Your Staff More Effectively, Kickstart Your Career and Chariots on Fire – Creating the Positive Advantage.