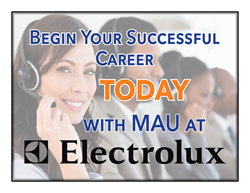 Augusta, GA (PRWEB) June 17, 2014
MAU is hosting a 3 day hiring event to fill positions as Customer Engagement Specialists at Electrolux in Augusta, GA. Beginning Wednesday, June 18 through Friday, June 20, walk-in applicants are welcome to come apply for this position at MAU's downtown Augusta office. Please see below for specific application hours on each day.
Walk-ins are welcome but applicants are encouraged to apply prior to arrival. Please visit http://www.mau.com/electrolux to apply in three easy steps!
Position Qualifications:
High School Diploma or equivalent required, college degree strongly preferred
Minimum 1 year experience in sales or consumer service
Event Details:
MAU Workforce Solutions
Office Services
501 Greene Street, 5th Floor
Augusta, GA 30901
Wednesday June 18 - 9:00am-4:00pm
Thursday, June 19 - 9:00am-4:00pm
Friday, June 20 - 9:00am-12:00pm
MAU Workforce Solutions staffs excellent, effective people for their partners, allowing them to focus on their core competencies. Headquartered in Augusta, GA since 1973, MAU is a family-owned, minority company making lives better for applicants, clients, and employees through innovative workforce solutions. Today, with Branch and vendor on premise locations across the South and recruiting partners worldwide, MAU has global capabilities to help with all staffing, recruiting, and outsourcing needs.